Cook Hall dedication set for Sunday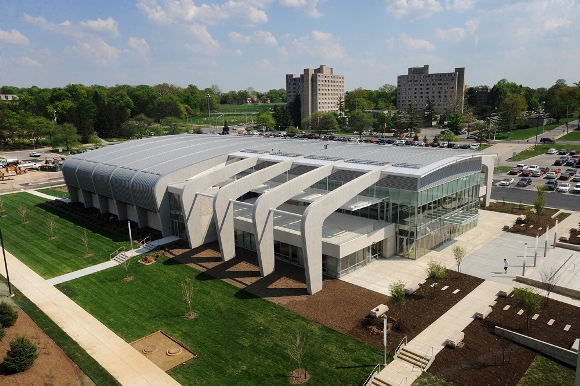 Cook Hall is no longer just a glimmer in the athletic department's eyes. It's a real, live, bouncing baby boy. And there's an open-to-the-public dedication for the new practice center set for this Sunday.
Some details, from IU Media Relations:
Indiana University Athletics will formally dedicate its new basketball development center, Cook Hall, on Sunday, April 25. The 3:00 p.m. dedication ceremony will be conducted on the men's basketball practice court inside the new facility, which is adjacent to Assembly Hall on the Bloomington campus.

"IU has a long basketball tradition comprised of legendary coaches, players, fans and victories," said Vice President and Director of Intercollegiate Athletics Fred Glass. "Cook Hall honors the hard work and determination of those who have made IU great, and it represents a renewed commitment to elevating both our men's and women's basketball programs into a new era of excellence."

The dedication ceremony will feature remarks from IU President Michael A. McRobbie, Glass, Basketball Head Coaches Tom Crean and Felisha Legette-Jack, former IU basketball players Scott May, Quinn Buckner and Amy Metheny, and current student-athletes Jori Davis and Jordan Hulls. Jim Edson from the architectural firm Populous of Kansas City will present the building for dedication. Stephen L. Ferguson, chair of the Indiana University Board of Trustees Facilities Committee, will accept it before McRobbie conducts the formal dedication.

The dedication ceremony is open to the public. An informal reception and tours of the building will immediately follow the ceremony.
Alex will likely head to Bloomington when the media is allowed to tour Cook Hall, so we hope to have some pictures for those unable see it in the flesh on Sunday.
Filed to: Cook Hall