That's A Wrap: Bawa Muniru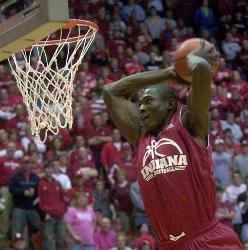 Welcome to "That's A Wrap," our attempt to um, wrap up the 2009-10 season. Sit back. Relax. Grab some popcorn. Get your read on.
Final Stats (19 games): 11 points, 13 rebounds, five blocks, one dunk at Hoosier Hysteria.
True story – I was cautiously optimistic before the season tipped off that Bawa Muniru could contribute as a freshman at Indiana.
I knew Bawa was extremely raw having watched him play in an AAU event in July of 2008. While he lacked the intensity needed to compete at the highest level in my limited viewing, he did possess physical attributes that led me to believe he could earn some minutes in an IU frontcourt desperate for size.
But sometimes reality fails to align with expectations.
Such was the case with Muniru, who arrived in Bloomington as the 112th best recruit in the 2009 class according to Rivals.com and finished the season with just 62 minutes logged.
The biggest storyline of Bawa's freshman season was the uncertainty surrounding his eligibility status. He wasn't officially cleared by the NCAA until November 5, when Tom Crean tweeted the following message: "Moments ago we just learned that Bawa is completely eligible. If you see his smile as wide as it has ever been you will know why." At the time, this was viewed as a relatively important development.
However, as the season rolled along, it became obvious that Bawa wasn't ready to contribute. In his limited minutes, which came mostly in garbage time, he had a tough time adjusting to the speed of the college game. His reactions on defense were a step or two slow. And on offense, his opportunities to score were few and far between: he took just eight shots all season.
The Bottom Line: Now that expectations for Bawa have been lowered considerably, it'll be interesting to see if he can improve enough over the summer to earn more playing time. His physical attributes — 7-0, built like a rock — aren't the problem. It's his basketball instincts, or lack thereof. The best recipe for Bawa is to spend the summer engaged in countless drills to improve footwork and play in as many pickup games as possible. His attitude suggests he'll do what it takes to get better, but will that be enough to crack the rotation?
Filed to: Bawa Muniru