That's a Wrap: Bobby "The Situation" Capobianco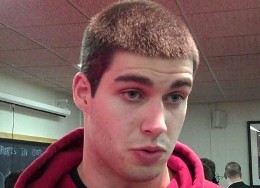 Welcome to "That's A Wrap," our attempt to um, wrap up the 2009-10 season. Sit back. Relax. Grab some popcorn. Get your read on.
Final Stats (31 games): 2.3 ppg, 2.6 rpg, 39.7% FG, 31.3% from three.

Bobby Capobianco was so excited to be a Hoosier that I'm not entirely sure he slept the night before he faxed in his letter of intent. What I do know is that his was the first the IU staff received on the first day of the signing period in late 2008, and his enthusiasm didn't seem to waiver much after that.
Capobianco, whose nickname, seen above, Chris Korman never adequately explained to me, was as physical a body as the Hoosiers had all year. His willingness to get in the mix down low was rarely a problem — its only shortcomings were that a) it led to plenty of foul trouble and b) it wasn't infectious enough.
Review game tape, and you'll see Capobianco was one of the most vocal and demonstrative players Indiana had this season. As the year wore on, more and more of said vocalization seemed laced with frustration, which is understandable. Frankly, IU needed more players like Capobianco and Verdell Jones, not less. It's only through that kind of demanding attitude this team will ever get better.
Offensively, Capobianco was never really a force, nor was he expected to be. His two best games, oddly enough, were George Mason (seven points, 10 rebounds) and Northwestern (eight points, seven rebounds), two games that could not have had more starkly different impact or meaning for IU as a team. Still, rarely did Capobianco make an appearance and not at least fulfill at least his most basic expectations.
The Bottom Line: Something that occurred to me toward the end of the season about Capobianco seems to fit best right in here — of all six freshmen that made up that heralded class, Capobianco was probably the one whose expectations and results were most congruent.
Maurice Creek was very good, probably better than most of us reasonably expected. Jordan Hulls was solid, but clearly in need of seasoning and size. Christian Watford was productive, but struggled playing not quite in his natural position and against strength. As Ryan rightly pointed out, Derek Elston struggled with consistency. And Bawa Muniru … well, let's be honest and say that anyone who came into this season with any idea what to expect of Muniru at all was lying to themselves.
But Capobianco, to torture the phrase, was about what we thought he would be. He was tough, if sometimes over-matched simply because juniors and seniors have been lifting weights longer. He was a banger who was unafraid to do the dirty work down low. He wasn't prolific offensively, he had decent but not outstanding success behind the 3-point line and, like any freshman of his skillset and disposition, he struggled at times to play physically without fouling.
Bobby Capobianco was as advertised, and Indiana could probably have used more players like him.
Filed to: Bobby Capobianco