That's A Wrap: Lessons in PER
Welcome to "That's A Wrap," our attempt to um, wrap up the 2009-10 season. Sit back. Relax. Grab some popcorn. Get your read on.
I'm not sure how many of y'all are familiar with John Hollinger's player efficiency rating (PER) for the NBA. So let's go to a quick explanation of the metric from the man himself before we get started:
The player efficiency rating (PER) is a rating of a player's per-minute productivity.

To generate PER, I created formulas — outlined in tortuous detail in my book "Pro Basketball Forecast" — that return a value for each of a player's accomplishments. That includes positive accomplishments such as field goals, free throws, 3-pointers, assists, rebounds, blocks and steals, and negative ones such as missed shots, turnovers and personal fouls.

Two important things to remember about PER are that it's per-minute and is pace-adjusted.

Because it's a per-minute measure, it allows us to compare, say, Jordan Farmar and Derek Fisher, even though there is a disparity in their minutes played.

I also adjust each player's rating for his team's pace, so that players on a slow-paced team like Detroit aren't penalized just because their team has fewer possessions than a fast-paced team such as Golden State.
Make sense?
Well, Hollinger, for the first time, has busted out PER for the college ranks — something he released last week. They revealed some interesting things. For instance, DeMarcus Cousins' PER of 35.45 — league average PER is 15.00 in the NBA, and I'd assume that would follow for the NCAA — ranks No. 1 in the country. Teammate John Wall, the surefire No. 1 pick in this summer's NBA Draft?
He didn't crack the Top 100.
Now, this doesn't mean Wall's isn't a phenomenal talent. It doesn't mean he won't still be drafted first overall. But what it does mean is this: He's being touted as the first pick because of his out-of-this-world athleticism, ability to see the floor and poise in key situations time and time again  — not for how efficient he's been this season.
Wall still isn't that great a shooter, and he doesn't shoot a high-enough percentage around the rim yet, either. But his college numbers are similar to Derrick Rose's and Tyreke Evans' — both guys who are killing it in the NBA this season. He'll be more than fine at the next level.
But Cousins — who's also being projected as lottery pick? He's as efficient as they come in the college game. But he gets less touches and less minutes in Kentucky's system, one that has several pro prospects.
As such, his per-minute work is sensational, even if his traditional numbers — 15 points, 10 boards —  don't wow you. (Though, of course, they are still quite good.)
Now guys: Think fast. What player on this year's Hoosiers squad did we talk about as contributing a lot, making heady plays and not turning the ball over much  … even though he saw a limited role at times this season?
Take a bow if you're thinking Derek Elston.
And guess what? It plays out with PER. Hollinger also broke it down by conference, ranking the Top 100 in the Big Ten.
Here's where IU's players stack up in regards to the conference: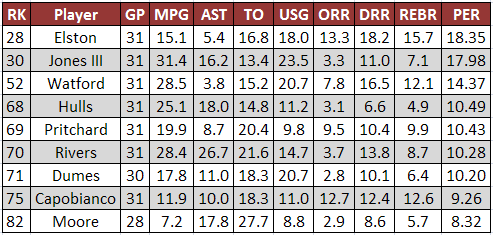 Yup, there's Elston coming in at 28th — tops for any Hoosier this season. He's IU's Cousins — albeit on a smaller scale. Elston is followed closely by VJ3, another guy that can stuff the stat sheet and do it without chucking up a million shots and turning the ball over a ton.
Some other things of note here: Rivers and Dumes — two guys that are turnover prone and have had trouble shooting the ball — rank near the bottom of the league.
Now, PER is far from the only thing we should be using in which to evaluate players. But it does a nice job of summing up a lot of what a player does on the court in a single number.
And it also confirms the eye test on three of IU's players.
Filed to: PER, Statistics, That's A Wrap