The latest on Will Yeguete and Moses Abraham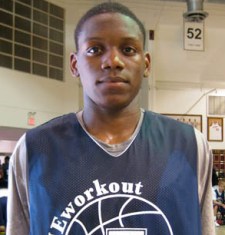 The recruiting buzz lately, as most of you know, has orbited around adding a big man to the 2010 recruiting class.
The two most-prominent names being mentioned thus far are Will Yeguete (pictured), a forward from Florida with an impressive offer sheet, and Moses Abraham, a D.C. product that IU entered late for but seems to have made up ground on in a short time.
Yeguete was on campus this weekend for the Northwestern game, and I got the chance to catch up with his coach, Aubin Goporo, who said the visit made a good impression on Yeguete.
"He said the visit went very well," Goporo told Inside the Hall on Monday night. "He enjoyed his time."
Yeguete, a native of Meaux, France, who has lived in Florida for the last two years, will take all of his visits before making a final decision on where to sign. Goporo said Yeguete hasn't set a firm date to announce his commitment yet and has taken three visits thus far. Yeguete has offers from Boston College, Georgia Tech and Indiana, among others.
With effective post play still at a premium in IU's rotation, Goporo said he believes Yeguete will "make an impact in his freshman year, no question about it." He described Yeguete as a well-rounded player who can play facing the basket or with his back to it, and sees the court and moves the ball well.
"The kid is a hard worker, and the kid enjoys a challenge," Goporo said. "(He) understands the game really well."
Goporo did say he wasn't sure how much IU's tradition, a strong Tom Crean selling point, would matter to Yeguete.
"He's looking for somewhere that he's going to fit in well," he said.
On Moses Abraham: I've been e-mailing back and forth with his adviser, Joe Boncore. Abraham was unable to make a scheduled visit to IU for the Northwestern game due to illness, and it's unclear whether he'll be able to get to Bloomington before he makes his decision, which Boncore said will come Sunday. Boncore added that Roshown McLeod's departure will have no effect on Abraham's decision.
Update: Our good friend Dustin Dopirak of the Herald-Times reports that Abraham won't visit IU, but that the Hoosiers are still in consideration. So there you go.
Filed to: Moses Abraham, Will Yeguete