The Minute After: Wisconsin
FINAL SCORE: 78-46

ALTERNATE TITLE: The night Tom Crean's frustration finally got the best of him.
Tom Crean had enough.
The turnovers. The poor defensive rotations. The other team carving up his squad like a Thanksgiving turkey. His Hoosiers lacking the effort, fire and resolve he demands.
So after a questionable foul call on Bobby Capobianco midway through the second half, Crean launched into a verbal attack on the ref who called said foul. He took a swig of his drink. The profanities continued to fly out of his mouth. He kept going. And going.
Another T.
Eruption: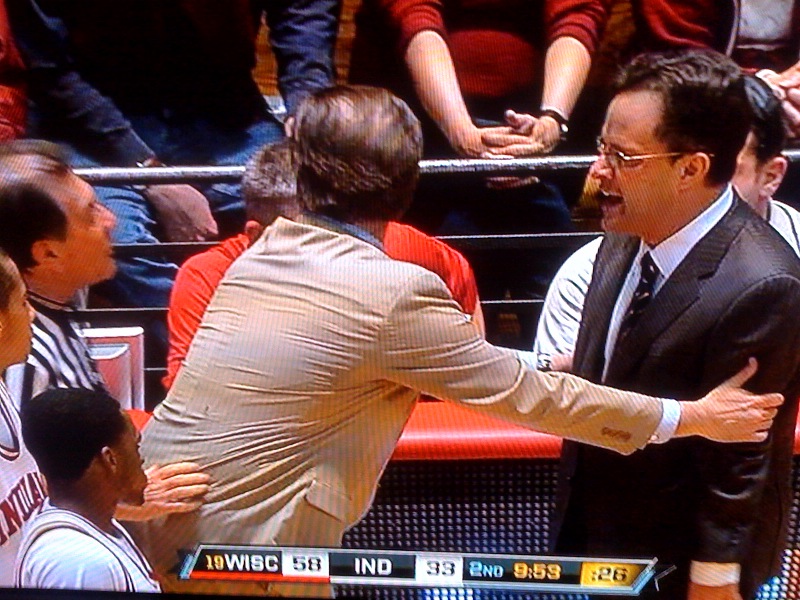 As Crean walked off the court to exit, he turned back around the free-throw line to bark some more, and assistant coach Tim Buckley had to restrain him. Just off the court and walking through the entranceway, Crean was maniacal, screaming and yanking his head from side to side. He popped into a room to the side of the corridor under the stands and kicked the door. And that same rage was still bouncing around his soul when the camera finally cut.
Who knows. They might have needed a straight jacket to contain him.
And you know what? I loved it. Loved it because sometimes there's that rage inside you that you can't contain. Sometimes, when your frustration level is through the roof, when you're the leader of a team on its way to its ninth straight loss, all it takes is that one little, teeny, tiny, itsby, bitsy thing to set you off.
It wasn't about that foul call. It was about so much more.
Tom Crean had Hoosier Nation's anger, frustration and disappointment swell up inside him tonight. We're a big group. It was just too much to contain.
He needed to do this. Needed to try something else to light a fire under his team's feet. Needed to use some other motivation or tactic. For that, I applaud him.
But alas, no amount of kicking and screaming was going to bring his squad back from such a huge deficit. Tonight, the Badgers owned Crean and his Hoosiers inside their own house in this midst of a long losing streak, and it was just too much for him to bear.
—
THE GAME IN AND OF ITSELF:
Tom Pritchard might have been as frustrated as Crean tonight, what with his technical in the first half, and his cheap shove on Mike Bruesewitz in the second half. But for the first time since I can remember, IU actually was running a nice little pick-and-roll set with Pritch, and he got some nice, easy looks. The Hoosiers got some efficient, high-percentage buckets tonight. I repeat, the Hoosiers got some efficient, high-percentage buckets tonight. Add in this team's best strength — their offensive rebounding of which they grabbed 14 tonight — along with some takes to the hole, and they actually won the points in the point battle 30-24.
Add in the ten free throws IU hit, and that gets you to 40 of IU's 46 points. Which means they only made three jumpers all night — two of which came on their first four points of the game. (Which is pretty insane, if you think about it. Seriously. Think about it.)
But yeah: props to IU for showing something inside tonight.
Everything else? Not so great. Because Wisconsin holds the ball so long on offense and waits to get the best shot, they kill a ton of clock. As such, they allow 57.1 points per game — good for first in the Big Ten and fifth in the nation. So a team like IU that has been scoring in the high 50s the past several game to begin with is going to see a dip in scoring. Hench the 46 points in total.
The Hoosiers just had no answers for Wisconsin's clockwork offense. They allowed them to shoot 54.7 percent and a scary-good 73.7 percent from 3-point land (8-of-11).
And of course, the same things that I talked about yesterday reared their ugly heads tonight. Turnovers? Eighteen of them, which lead to 21 points for the Badgers. Blocked shots? The Badgers had nine — nine! — of them tonight. Poor shooting? They shot 35.3 percent from the field. IU's other strength besides getting offensive boards is free-throw rate. They got to the line 20 times to Wisconsin's 15, but only made 10 of them.
Making things that much tougher to swallow? This 32-point loss was the program's worst ever at home. Never has a team that's suited up in the cream and crimson lost so bad inside Assembly Hall.
It's enough, to well, turn a Midwest Man into the Incredible Hulk, ain't it?
Filed to: Tom Crean, Wisconsin Badgers