Fan Report: Austin Etherington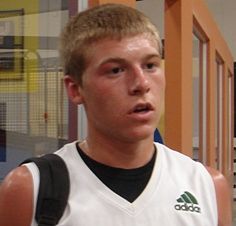 The following report was written and submitted by ITH reader Dannon Brown (dphattybrown), who got a chance to watch Austin Etherington on Friday night. If you attend games of IU signees, commitments or potential recruits, send us a report to [email protected] and it may appear in this very space.
I went to watch Tipton at Hamilton Heights last night and here's my take on the game.
Austin Etherington drew the challenge of guarding 7-0 Ohio bound Ethan Jacobs. I would say at 6-6 Austin rose to the challenge. He is not afraid to get physical and showed quite a bit of toughness on the block. In dealing with the height disadvantage he also did a very good job of showing his basketball knowledge in playing the leverage and position game with Jacobs. Ethan ended up with 14 points in a game in which he was guarded primarily by Etherington and his brother, Alex, who is a 6-3 freshman.
On the offensive side of the ball, Austin went for a quiet 19 points. He seemed to have a hard time in the low post as Tipton really did a good job on help defense. In the second half when Hamilton Heights was having trouble scoring they went to Austin for their scoring needs. They began running plays to get him the ball up top and allow him to create off the dribble. He hit two pull up 15-footers and got to the line a handful of times. I would say of the 19 points Austin scored on the night, 12-14 came in the second half and most of that in the 4th quarter when his team needed it most. He hit 9 of 14 free throws.
There wasn't a great chance to get a good look at Alex Etherington, but what I did see was awesome. He is an exceptional athlete with an aggresive physical nature. His offensive game isn't as polished as Austin's is but can really get to the basket.
My grades for Austin Etherington:
Offense: B+ – It will be fun to watch next week against a smaller team, but he struggled a bit against the height of Tipton and that will be key in the Big Ten.
Defense: A – The highlight of the game was an above the rim block on Jacobs. This was face-to-face and not a blindside block. He had another block on a fast break in which he easily got up to 11 feet for the block.
Intangibles: B – Austin ran the break a couple of times and did a great job of finding the trailer. He can create off the dribble but really only has a first move to do so, if he gets cut off from his first move he doesn't have spin or double crossover that he can go to. He's a good passer from virtually anywhere on the floor, but will need to work on his outside shot to become a true offensive weapon.
In the end, being an IU fan from birth I can say that I am very excited to see Austin come play for the Hoosiers.
Filed to: Alex Etherington, Austin Etherington