A look at 2012 recruit DeJuan Marrero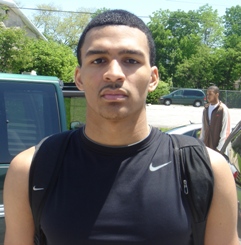 For those who do not know, I also moonlight as a freelance sports writer for the Times of Northwest Indiana (whuddup region readers) covering Notre Dame sports and local schools when they make the trip east. As such, I got out to South Bend Washington High School for a game against No. 1 Bowman Academy, and when I went to sign in, whose name should I see above mine but Mr. Matthew Painter.
The Eagles sport a deep and athletic roster that's gotten them a 14-0 record and the top spot in 1-A boys basketball. They've also got DeJuan Marrero, whom I presume Painter was present to watch.
Some vitals: Marrero is a sophomore, listed at 6-foot-5, which seems about right. Rivals and Bowman both have him as a forward, and he's thus far received offers from Indiana, Illinois, Purdue and Ohio State, and interest from Michigan, Kentucky and Wake Forest. So dude's a recruiting magnet with more than two years left to polish his game.
Painter might have had cause to leave South Bend a little bit disappointed, as Marrero spent most of the game on the bench with foul trouble. But Marrero got onto the floor for good in the fourth quarter, and his coach even left him out there when he pulled the rest of Bowman's starters, presumably to make sure that the kid got good exposure in front of a Big Ten coach.
Marrero didn't disappoint either, dropping 11 points in the final period to finish with 13 and 11 rebounds. My unofficial tally had him at 5-of-12 from the floor, and 1-of-2 from behind the arc. I might be off on the 3-pointers, but it stood out that the kid didn't waste shots from behind the 3-point line — he did a good job of attacking the rim and taking what was given to him.
As with most high school games that are overwhelmingly one-sided, it was hard to really get a sense of how Marrero would fit into a traditional small forward role. Washington really didn't have anyone that could guard him, (or anyone. Teammate Chris Bond pulled down a triple-double on the Panthers) so Marrero spent a lot of time scoring inside off layups and putbacks against a team with no real way of stopping a player of his size and ability.
But he did move well with the ball, he was judicious in shot selection and his range is legitimate.
Sorry I can't offer a more in-depth look, I'm not the most skilled at breaking down recruits. But considering I got an up-close look at a guy for whom Alex had high praise, (and Alex does know what he's talking about) I thought it important to bring it up.
See everybody on Saturday.
Filed to: Dejuan Marrero, Matt Painter