Dejuan Marrero one of the best in loaded 2012 class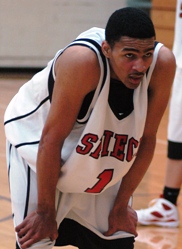 A lot of buzz has been given to D'Vauntes Smith-Rivera and Ron Patterson as the best players in the 2012 class from the state of Indiana. But tucked up in the northwest region of the state, Gary Bowman Academy's Dejuan Marrero is making a case for the top spot in the class.
As a freshman, Marrero averaged 17 points, 13 rebounds and four blocks for a team that finished 19-4 and in the process, caught the eye of Indiana coach Tom Crean.
"He's just trying to keep all of the best players in the 2012 class together," Marrero said of Crean's recruiting efforts for the 2012 class. "Bring another national championship to Indiana. That's what he told me."
Both the Hoosiers and Valparaiso have offered Marrero and he's also hearing from Ohio State, Purdue, Illinois, Wake Forest, Oregon State and Miami.
"It's cool," Marrero said of the attention he's receiving. "I'm keeping my mind open and trying to stay focused on the team. I really haven't paid much attention to it cause I'm a freshman. I'm open minded, just looking around for now."
After a tough loss to Team Pride in the quarterfinals of the adidas May Classic, Marrero talked about how his role on Spiece Indy Heat differs from his role at Bowman Academy.
"I play mostly two or three, sometimes four," Marrero said. "With A.J. (Hammons) the big presence down there, I'm happy I can just roam around and shoot the jump shots now because at school I play the five."
Scouting Report: At 6-5, Marrero is a versatile wing with a surprisingly polished game for his age. The fact he's playing multiple positions will only make his game more well-rounded in the long run. He showed an ability to finish in transition and also get to the basket from the wing. When he wasn't able to finish at the rim, he got to the foul line.
Filed to: Adidas May Classic, Dejuan Marrero