Good, Bad and Ugly: Minnesota
THE GOOD: IT'S A WIN.
There are plenty of things this young Hoosiers team has yet to master, yet to grasp, yet to learn. And so far this season — and especially as of late in losses to Illinois and Michigan — one of their Achilles Heels has been finishing out the close game and winning. But If IU can replicate the effort and performance we've now seen in three Big Ten home games the rest of the way, and take the next step as they did today by rallying back in the OT frame, maybe this afternoon's game is one we can point to say this is where they figured it out.
I know there will be harder challenges at home for the Hoosier up ahead, as Wisconsin, Michigan State and Purdue loom in the coming weeks. But given the way IU has competed in their first three home conference games, IU fans should feel confident that the Hoosiers have a shot to win, that they'll be in every single home game. This isn't to say they're going to run the table at Assembly Hall. Far from it. And it's not to say they're suddenly going to take what they're doing on their home court and suddenly replicate it on the road. That would be foolish.  But it is to say that this group of players has discovered that aggressive play on both ends of the floor — a floor they now know well — with a raucous crowd behind them is a recipe for good things.
Let it be known, Big Ten: When you come into Assembly Hall this season, there are no free passes, no easy wins.
On to some particulars:
1) Rebounding, especially on the offensive end, was key for Indiana tonight. IU simply out-worked and out-hustled Minnesota in that department. In the first half, IU grabbed 21 boards (nine offensive) to the Golden Gophers' nine, and it allowed the Hoosiers several second-chance opportunities. Couple that with the hot hand of Devan Dumes from downtown and IU shooting 70 percent from the charity stripe (14-of-20), and it's a large reason the Hoosiers went into the the locker room with a lead at halftime. For the game, IU finished with 43 boards (a whooping 20 on the offensive end) to Minnesota's 31. Big ups to Bobby Capobianco and Tom Pritchard for snagging a combined ten boards before they both fouled out — and to Bobby C. for nailing that three, as well as that jumper as time was expiring on the shot clock in the second half — and to Christian Watford who had 10 boards, none more important than the one he grabbed on Devoe Joseph's miss with four seconds left in OT.
2) Without Maurice Creek the rest of the season, some have worried about IU finding a go-to scorer in crunch time the rest of the way. But that man may have emerged this afternoon in the form of Verdell Jones III. He's been important this season at the right times before, but this was on another level. Simply put: The Hoosier do not win this game without VJ3. In the overtime frame, when Joseph was raining threes and IU was lacking assertion or a plan, Jones put the team on his shoulders and willed them to victory. Outside of Watford's important two made free throws after he snagged that aforementioned board and a layup by Jeremiah Rivers, Jones had the remaining six points in OT and he hit the biggest shots at the biggest times.
With IU trailing by five with just over two minutes left in OT, Jones grabbed an offensive board on a Derek Elston miss, got fouled, and sank both free throws. On IU's next possession, Jones hit a jumper in the lane to bring IU within a point. And with IU trailing by one and not much going on, Jones took it upon himself to step up, make a move and take that fall-away jumper and hit it. Huge game for him — 24-points, seven boards, 13-19 FTs) — and his ability to step up and execute in overtime was the reason IU won this game.
THE BAD: SCORING DROUGHTS.
Minnesota is a very good defensive team, and the Hoosiers deserve credit for doing a good job with the press. They also only had 14 turnovers, which is under their season average. And for a team that is scoring the second-lowest points per possession in the Big Ten, throwing up 70 in regulation on the Golden Gophers is commendable. But IU also was stuck on 59 points for almost five minutes in the second half, and it allowed Minnesota to crawl back from a 15-point deficit and cut it to seven. IU also had close to a six-minute scoring drought from the 6:38 mark to the :46 mark at the end of the second half, and with Joseph and Paul Carter hitting, the game become a nail-bitter with under a minute to go.
IU was able to respond in the middle of those two scoring droughts to pad their lead a bit again. But around 11 minutes of scoreless action — something we've seen from the Hoosiers before this season — usually isn't going to cut it. This afternoon, though, the Hoosiers were able to escape with a victory.
THE UGLY: STORMING THE FLOOR.
I know this tradition jumped the shark a few years back, but come on: IU beat an unranked Minnesota at home. Did the IU students really have to do this?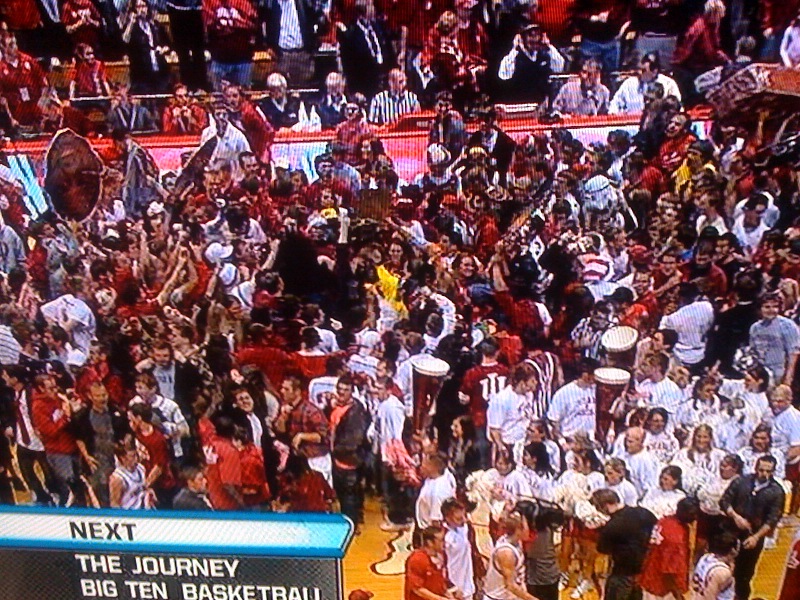 Filed to: Bobby Capobianco, Minnesota Golden Gophers, Verdell Jones