28-point effort by Carlino helps South stay unbeaten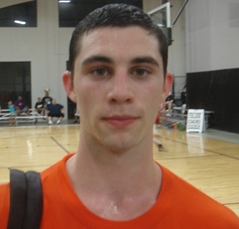 Throughout the season, Inside the Hall will keep you posted on how 2010 signees Victor Oladipo and Will Sheehey and 2011 commitments Austin Etherington and Matt Carlino, as well as other notable prospects being recruited by Indiana, are performing at their respective schools.
You can send us stats or results for this report at [email protected]. Here's our latest update:
+ Victor Oladipo: DeMatha went 3-0 in the Gatorade International in Puerto Rico. The 6-4 Oladipo had 17 points in a 74-58 win over Adianez (P.R.) on December 27, nine points in a 75-55 win over Adela (P.R.) on December 28 and 13 points in a 82-62 win over Jefferson (NY) on December 29.
+ Will Sheehey: No games last week.
+ Austin Etherington: 17 points in Hamilton Heights 76-51 morning win over University in Hamilton Heights Classic. Etherington followed that up with 12 later that evening in a 60-33 win over Lake Station. You can watch our video Q & A with Etherington here and video highlights of Etherington here.
+ Matt Carlino (pictured): 28 points, including 14 in the final three minutes of regulation, on December 30 at Carmel as South needed overtime to topple the Greyhounds, 71-68. The junior guard also had 13 rebounds. Carlino had 19 second-half points in South's 86-77 win over Lexington Catholic on January 2.
Other notables:
+ Cody Zeller: Washington moved to 9-0 with 63-49 win at Mount Vernon (Posey) on January 2. Zeller scored 21 points.
+ D'Vauntes Smith-Rivera: The 6-3 guard poured in 30 points in 80-78 loss on December 30 to East Chicago. Also scored 14 points in 112-27 win on December 29 over Campagna Academy.
+ Jeremiah Davis: The Muncie Central guard had 16 points in 64-48 loss at Indianapolis Pike on January 2.
+ Josh Selby: The No. 4 player in the country, according to Rivals.com, scored 32 points in 73-68 Lake Clifton loss to Kennedy (NY) on December 29. Selby followed that up with 46 points, 16 assists and 12 rebounds in 110-44 win over Connexions on December 30.
+ Marquis Teague: 22 points in 64-48 win over Muncie Central on January 2. Attended Indiana's game on December 31 against Michigan.
Filed to: Austin Etherington, Matt Carlino, Victor Oladipo