Checking in on Kentucky's Pomeroy Rankings
Yes, Kentucky is a very talented team, more talented than the Hoosiers. Yes, they're undefeated against a difficult schedule thus far. Yes, a loss is the likely outcome for IU on Saturday. Yet, there's at least one area that the Wildcats are weak in, an area the Hoosiers would be wise to exploit. Also, in Ken Pomeroy's latest rankings, Kentucky only ranks 54th in the country, which is shocking if you look at its No. 4 ranking in the AP Top 25 Poll and its win-loss record against that tough schedule.
Let's take a look at some of this: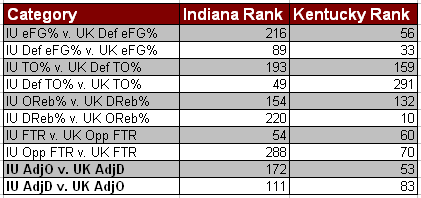 As you can see, IU has done a respectable job this year at creating turnovers — they're in the top 50 in the country in defensive turnover percentage. Meanwhile, Kentucky is one of the worst teams in the country in offensive turnover percentage. At 291th, only 56 DI teams are turning over the ball at a higher percentage. And even though IU's turnover percentage is poor, UK's defensive turnover percentage doesn't jump out at you. As we saw against Pitt, winning the turnover game can be beneficial for this squad.
But other than that, IU could face some problems. Outside of the Pitt game, they've been a bad shooting team this season. And at 56th in the country in defensive eFG percentage, Kentucky is doing a pretty good job of D'ing up on shooters. There was also some chatter in the comment section of Alex's Know Thy Opponent that Kentucky hasn't shot the ball "extremely well" this season. But a 33rd-ranked eFG percentage  — 54.4 percent, which accounts for the added value of 3s — is pretty darn good.
Also, IU was killed on the offensive glass against Pitt; the Panthers had 19 offensive boards. Seeing that Kentucky is in the top 10 in the country in offensive rebounding percentage and IU only ranks 220th in defensive rebound percentage is a cause for concern.
Bottom line: if IU can force Kentucky into some turnovers, play some effective zone defense like they did against Pitt — man-to-man with Kentucky's athleticism could be a big problem — and work to limit UK's offensive rebounding, they might be able to keep it close. But, if IU isn't shooting well against Kentucky's good D and the Wildcats are getting lots of second-chance opportunities on the offensive glass?
It could be a rough one.
Filed to: Kentucky Wildcats, Stats