Know Thy Opponent: Pittsburgh Panthers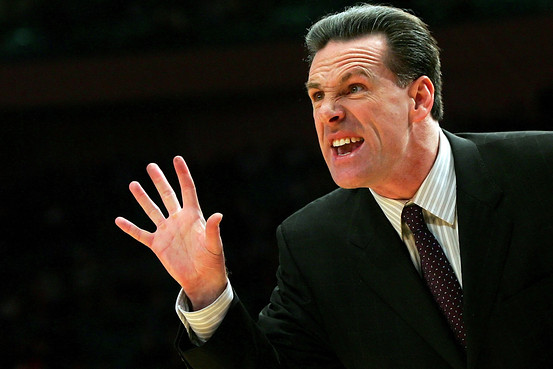 Based on its final AP ranking — No. 4 — and NCAA Tournament seeding — No. 1 in the East region — you can argue that the 2008-2009 version of the Pittsburgh Panthers failed to reach its own expectations. Jamie Dixon had the horses to reach Detroit, but a brilliant regional final performance by Villanova sent Dixon, DeJuan Blair, Levance Fields and Sam Young back to Pittsburgh a weekend early.
Dixon's nine tournament wins in the past six seasons are tops for any coach who's yet to reach a Final Four. His ability to teach defense and rebounding makes him one of the more respected coaches in the country. And until he landed freshman Dante Taylor in the 2009 class, all of his success at Pitt has come without the help of a single McDonald's All-American.
So it should be no surprise that despite the losses of Blair (2nd round pick by the Spurs), Young (2nd round pick by the Grizzlies), Fields and Tyrell Biggs, Dixon is having early season success with this year's team. Pitt is 7-1, with its only loss coming to No. 2 Texas back on November 24. Even more impressive is that they've done it without the services of senior guard Jermaine Dixon, the team's lone returning starter who is recovering from a foot injury and Gilbert Brown, who was suspended for the fall semester for academic reasons.
It's a new cast of characters, but the basic principles remain the same: defend, rebound and most importantly, be tougher than your opponent. It's the formula that has placed Dixon atop the wish list of many an athletic director the past few off-seasons. But still he remains at Pitt, where he's won 170 games in 6+ seasons and holds an impressive 70-30 record in Big East games.
Sophomore Ashton Gibbs, a 6-2 guard, has emerged as the go-to-guy offensively through eight games. Gibbs is averaging 16.1 points and is hitting 90 percent of his free throws. Junior guard Brad Wanamaker is arguably Pitt's best rebounder (6 per game) and their second leading scorer at 12.5 per contest. Both players will likely see their scoring numbers decline upon the returns of Dixon and Brown.
The rest of the cast, with the exception of Taylor (more on him in a minute), is largely composed of role players from last year's team. Gary McGhee, a 6-10 forward from Anderson (IN), is the leading rebounder after scarce minutes a season ago. Nasir Robinson, a 6-5 forward, has been thrust into a starting role after playing just five minutes per game in 2008-2009. And their point guard is Travon Woodall, a 5-11 redshirt freshman who played in only 10 games last year before suffering a season-ending injury.
Taylor, for all the hype that surrounded his arrival, has yet to scratch the surface of his potential. Dixon has limited him to 16.4 minutes a contest off the bench, but his numbers (5.4 points and 6.1 rebounds), suggest he'll supplant McGhee from the lineup sooner rather than later. The team Indiana will see Tuesday is likely a shell of the one Dixon hopes he'll be able to mold into his seventh consecutive tournament team. Once Taylor blossoms and the combination of Dixon and Brown returns, Pitt will be well one it's way to another 20-win season and a likely NCAA berth.
Filed to: Jamie Dixon, Pittsburgh Panthers