A sign Bob Knight will be back in November?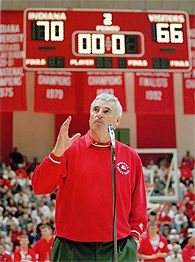 Yesterday, the Herald-Times reported that anonymous donors hooked Indiana up with $75,000, which will be used to reach a lawsuit settlement with Bob Knight, the last of such unresolved disputes between the former coach and the university.
The agreement was spelled out in a memorandum drawn up by the Indianapolis law firm of Ice Miller LLP and signed last week by representatives for IU and Knight.

It is believed the move is in reference to a lawsuit the former IU basketball coach filed against the university, arguing that IU failed to represent him in a lawsuit filed against him, while he was an employee of the university, by former assistant coach Ron Felling.
The timing of this sure seems coincidental, eh? The Hall of Fame induction ceremony Knight will be honored at is next month, and this money suddenly appears out of the blue? Smells of someone really wanting Knight to come back to Assembly Hall, trying to pull a few last strings so the old coach breaks down and enter the house he built one more time. But here's what's interesting, there was actually some wording in the memorandum that said: "Specifically, the resolution of this matter creates no obligation for Coach Knight to participate in the upcoming induction into the IU Athletics Hall of Fame. The choice whether to attend or not to attend the induction ceremony is completely up to Coach Knight and has nothing to do whatsoever with the resolution of the litigation."
Even if that's the case, this is still an olive branch extended to the former coach. And if this is the last of the disputes between the former coach and the school — at least legally — it's clear IU has done much to gain favor with him. There's a whole new administration on board that wants to honor Knight. There are no more ill feelings from the university's end. They simply want to publicly recognize his legendary run at the helm of the Hoosiers.
But for as much as IU has done, it really doesn't matter. This is Bob Knight. He dances to the beats of his own DJ. If he doesn't show up, it wasn't for a lack of effort by IU. It's because, as always, he does it his way. Even if that way is stubborn and petulant.
Filed to: Bob Knight