ITH Super Happy Fun Time Player Profile: Devan Dumes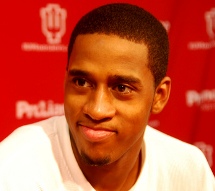 Hoosier Hysteria is on the horizon and it's time for Inside the Hall's player-by-player breakdown of the 2009-2010 Indiana Hoosiers. We wrap up the player profiles today with Devan Dumes.
Devan Dumes led Indiana in several statistical categories a season ago: total points (344), points per game (12.7), 3-pointers made (59) and indefinite suspensions (1). Here's a brief synopsis of his 2008-2009 season: he was Tom Crean's most reliable option on offense and for a period in February, he was Crean's biggest headache following an ejection for throwing elbows against Michigan State.
Dumes was at his best offensively in late January and early February when he averaged 19.6 points during a five-game stretch that included IU's one conference win over Iowa. Unfortunately, his season-high 27 points against Iowa was preceded by an elbow to Goran Suton's groin and an indefinite suspension that lasted two games. He apologized shortly after the incident, but struggled mightily in three of the final four Big Ten games, suffered a knee injury in the regular season finale and had surgery on his finger over the summer.
His role in 2009-2010 will be far different than a year ago: available shots and minutes won't be as plentiful. He could find himself as a reserve because of Indiana's added backcourt depth. Coming off the bench could actually be a positive for Dumes and for IU because his ability to provide instant offense and energy may be better utilized as a sub.
Bottom Line: The lone senior expected to contribute on the court (sorry Tijan!), Dumes has an opportunity to step up and seize a leadership role. In his press conference a week ago, Tom Crean commented that "nobody that just grabs the team and says this is what we're doing everyday." Dumes should benefit from IU's improved personnel on offense, specifically Jeremiah Rivers and Jordan Hulls, who both make it a point to find open shooters.
Quotable: "Devan (Dumes) missed some valuable time this summer because of his injury, because of his surgery, and that has probably put a few things back. He is shooting the ball extremely well, but he has still got a ways to go in developing that driving game again and that ball handling." – Crean on Dumes.
Dumes leads Hoosiers over Hawkeyes:
Filed to: 2009-2010 season preview, Devan Dumes