ITH Super Happy Fun Time Player Profile: Matt Roth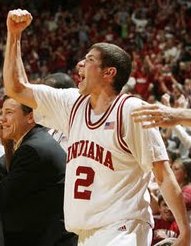 Hoosier Hysteria is on the horizon and it's time for Inside the Hall's player-by-player breakdown of the 2009-2010 Indiana Hoosiers. Today: Matt Roth.
When Matt Roth signed a Letter of Intent with Indiana, former coach Kelvin Sampson compared his shooting ability to Lee Humphrey, a catalyst in Florida's back-to-back national championships. The comparison was a high billing considering Humphrey is the all-time leader in three-pointers made in the NCAA Tournament. The Washington (IL) native showed flashes of shooting brilliance as a freshman, but for the most part, he was a one-dimensional threat who lived and died by the three-pointer.
Roth attempted 174 shots in 2008-2009 and 153 came from behind the arc. While many considered Devan Dumes to be IU's streakiest shooter, Roth was actually less effective than Dumes in shooting the basketball. If you throw out his extraordinary performance against Ohio State where he connected on 9 of 11 attempts, his three-point percentage checked in at just 34 percent.
So where does Roth fit in as a sophomore? That will be largely dependent on his improvement during the off-season. There is playing time on any team for a shooter, but IU has added a shooter in Maurice Creek. Roth will need to show that he can occasionally operate off the dribble, defend much better, contribute on the glass and hit open shots to consistently see the floor. One thing that he's reportedly changed is his body: Tom Crean said on Thursday that he's gained 20 pounds since last season.
Bottom Line: The good news for Roth heading into the season is that Crean is speaking highly of his progress over the summer. His experience should help him when minutes are divvied up in November, but beyond that, he'll need to bring something other than just standing outside and waiting for an opening. Improvement on defense is probably his best bet to regular playing time in an ultra-competitive backcourt.
Quotable: "Matt has a quicker release, and he is trying to do more than just shoot threes. We're actually trying to get him to move his range in, so that he has a quicker release and at points in time can break you down off of a shot-fake. He is trying to get to the offensive boards." – Crean on Roth.
Roth catches fire against Ohio State:
Filed to: 2009-2010 season preview, Matt Roth