ITH Super Happy Fun Time Player Profile: Verdell Jones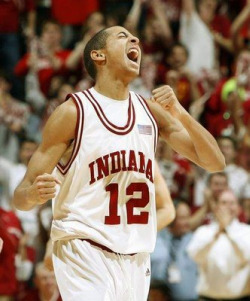 Hoosier Hysteria is on the horizon and it's time for Inside the Hall's player-by-player breakdown of the 2009-2010 Indiana Hoosiers. Today: Verdell Jones.
In a year of horrific gosh-they-just-play-so-hard basketball, Verdell Jones was a pleasant surprise. Whether he's anything more than that — whether he's a legitimate Big Ten point guard, or merely a seat-saver for the likes of Jeremiah Rivers — is the predominant question facing him in 2009-10.
But first, his 2008-09. Jones was second on the team in minutes in 2008-09, which, considering the frequency with which Daniel Moore played, is a testament to how bad the Hoosiers were last year; there were times when Jones and Moore actually shared the floor. Jones was second on the team in points per game to Devan Dumes, but he did it at a more efficient rate, with a slightly better effective field goal percentage than Dumes. (Dumes made more threes, though, so take that as you will.) But Dumes, as turnover-prone and erratic as he was, actually committed fewer turnovers than Jones, who gave the ball away over three times a game. That is not good, especially not from a point guard.
The real revelation with Verdell Jones comes in the eye test. He has the calm, casual manner of someone used to controlling games. He can hit outside shots and slash to the rim — his slash is more of glide, but you know what I mean — and his passing ability is probably his best attribute. Even with explosive recruits on the horizon, the Hoosiers still need scoring; if Jones can provide an extra threat, all the better.
Bottom Line: Jones should share time with Jeremiah Rivers — both could start, actually — and be more productive than he was in his none-too-shabby rookie campaign. He needs to get stronger and more physical and less turnover prone. But hey, that's what the offseason's for, right? Jones' progress will be interesting to watch.
Quotable: Here's Tom Crean discussing Jones' individual offseason workouts on September 9:
The bit on positional flexibility will be important, too, seeing as Jones could be a bit of a tweener when Rivers, not to mention Dumes, is on the floor. I'm intrigued.
Filed to: 2009-2010 season preview, Verdell Jones