ITH Super Happy Fun Time Player Profile: Derek Elston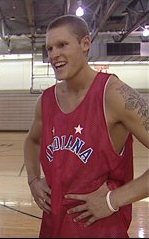 Hoosier Hysteria is on the horizon and it's time for Inside the Hall's player-by-player breakdown of the 2009-2010 Indiana Hoosiers. Today: Derek Elston.
Derek Elston, the first player to commit to Indiana's 2009 class, made the call to become a Hoosier in September of 2007. After his decision, he watched Indiana go from a top ten team during the 2007-2008 to a program decimated by Kelvin Sampson's excessive phone calls. Once Tom Crean was hired, it only took a couple of conversations between the coach and the player to decide that Elston's commitment was still a perfect fit.
At 6-8 and 225 pounds, the Tipton (IN) forward has the body to play inside and the versatility to step out and play the three. He averaged 19.8 ppg and 10.8 rpg his senior season and finished third in the voting for Mr. Basketball. His ability to rebound and defend will put him in position to play major minutes from day one. It's not out of question that he could lead IU in rebounding this season.
What remains to be seen is how much Elston has improved his mid-range game over the summer. Mechanically, his stroke is very sound and if he can consistently knock down shots from the perimeter, he becomes a much tougher player to guard. He's also a solid ball handler and when he doesn't finish in the paint, he consistently gets to the line and knocks down free throws.
Bottom Line: After flying under the radar nationally, Elston will get his chance to show his top-50 talent immediately in Bloomington. He probably won't become a prolific scorer until later in his career, but his contributions on the glass and interior defense should be felt right away. Alongside Bobby Capobianco, Christian Watford and Tom Pritchard, Elston will help anchor a front line that could be better than expected.
Quotable: "Derek deserves a lot of credit because he stayed loyal to Indiana through all the turmoil. As everyone knows, he committed to the previous staff and shortly after we got the job he came up to see us. He's the unsung hero of this class because people around the country have forgotten how good he is because they haven't had a chance to see him. He is tough and can rebound the basketball in addition to playing multiple positions on the front line." – Crean on Elston.
Back in time, 25 months to be exact:
Filed to: 2009-2010 season preview, Derek Elston