ITH Super Happy Fun Time Player Profile: Christian Watford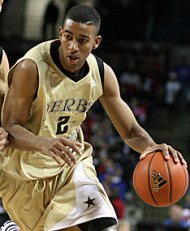 Hoosier Hysteria is on the horizon and it's time for Inside the Hall's player-by-player breakdown of the 2009-2010 Indiana Hoosiers. Today: Christian Watford.
If Maurice Creek is the freshman most ready to contribute, Christian Watford is not far behind. A consensus top 50 recruit nationally, Watford chose the Hoosiers over Alabama, Kentucky, Memphis and Louisville. Both Tom Crean and Bennie Seltzer put a great deal of effort into his recruitment and were able to sell the Indiana as the place where Watford can best prepare his game for the next level. His commitment in early September of last year lifted Indiana's class into the top ten nationally.
At 6-8 and 215, Watford is a versatile wing that can score from the perimeter and also finish on the block. His handle on the perimeter is solid enough to utilize a pull-up jump shot that he's able to knock down consistently. Although he'll need to bulk up to compete on the block in the Big Ten, his ability to finish in traffic with contact is already a strong suit of his game.
When speaking about his freshman class a couple of weeks ago, Crean commented that Watford is getting work with the guards, wings and the post players this fall to make him a more rounded player. His ability to play different positions will give this year's team the ability to go with several different looks. He'll be a difficult matchup on the wing because he's long and has a quick release. But he's also capable of hitting the offensive glass and scoring on put backs or getting to the free-throw line.
Bottom Line: Watford will be counted on to play major minutes right away and as he gets acclimated to the physical style of play during conference play, he'll have some breakout games. He has the tools to be a solid defensive player when he gives maximum effort on each possession and moves his feet. He'll battle to be one of the top five freshmen in the Big Ten and down the line, he has the talent to take his game to an all-conference level.
Quotable: "Christian, along with Maurice, showed the nation that Indiana never really went anywhere when it comes to getting national-level players from different parts of the country. Bennie Seltzer did a tremendous job of keeping up with Christian when we were at Marquette and we did feel like we had much of a chance (with him). And we all worked diligently to show Christian that he would be a very valuable part of our rebuilding process at Indiana. He has the ability to get to the rim and he can play on the perimeter. He is a matchup nightmare because if you go small on him he can take you down low and if you go big he can take you to the rim. He can be an excellent rebounder and what I feel, along with the other members of this class, is that he will be able to hold his own defensively for many years to come inside our program. We are really excited to have a player of Christian's caliber coming into Indiana." – Crean on Watford.
Watford Speaks:
Filed to: 2009-2010 season preview, Christian Watford