ESPN all-time rankings: Indiana No. 5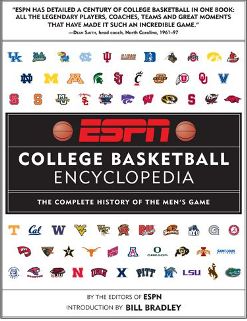 The ESPN College Basketball Encyclopedia is out this week and tucked on page 1196 is a computer based ranking of the top programs of all-time. The formula, composed by Jeff Sagarin, looks at wins and losses, scoring margin and an additional ranking that combines the first two factors.
The Big Ten placed five programs in the top ten: Indiana (5), Illinois (6), Purdue (8), Ohio State (9) and Iowa (10). And the four programs ahead of IU are, in order: Kentucky, UCLA, Kansas and North Carolina.
It's hard to justify this formula as the best way to determine all-time greatness, but they did accurately peg what I perceive to be the top five. After that, Illinois ahead of Duke seems to throw up a red flag as does having Michigan State all the way down at No. 15.
From what I've been told, the book, which is 1,232 pages, is a must-have for college basketball fans. It's packed with just about every pertinent fact from the game's history: tournament brackets, polls, team histories and of course, these rankings. Update your Christmas lists accordingly.
Filed to: ESPN College Basketball Encyclopedia