ITH Super Happy Fun Time Player Profile: Bobby Capobianco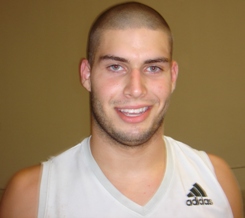 Hoosier Hysteria is on the horizon and it's time for Inside the Hall's player-by-player breakdown of the 2009-2010 Indiana Hoosiers. Today: Bobby Capobianco.
The least heralded by analysts of Indiana's 2009 recruiting class, Bobby Capobianco won't be the first name you come across when browsing the various preseason magazines beginning to hit newsstands.
Capobianco, a 6-8 bruiser from Loveland (OH), is the son of a former Vanderbilt basketball standout, Barbara and a former Vanderbilt football player, Bob. Tom Crean began recruiting him while at Marquette and just 15 days after landing in Bloomington, Capobianco became Crean's first commitment. He led Loveland to a 17-4 record last season and averaged 18 points and eight rebounds per game.
The trademark of his game lies in the paint and his impact will be felt primarily on the boards. He's capable of putting up points on the block using either hand and has a nice stroke from 15-17 feet. It's doubtful that he'll block a ton of shots, but he won't stand for getting beat by defenders, either. Capobianco's effort on defense is the trademark of his game. What he lacks in foot speed and athleticism, he makes up for with a willingness to work hard on every possession.
Bottom Line: Capobianco probably won't see a ton of minutes as a freshman, 10-15 per game is probably a reasonable estimate, but he'll be a four year guy with the talent to become a starter. He's an intelligent kid who will practice hard, play hard, improve as a player and do his job in the classroom. His winning attitude and outgoing personality will quickly make him a fan favorite. If he can improve his foot speed and polish his offensive game, he'll be a steal for Indiana.
Quotable:  "Bill Lynch has been very, very noble not to try to get that kid to be one of his tight ends, one of his linemen. He has that body. He doesn't have tremendous athleticism – that's not there yet. But he's got to have tremendous will. When he shows that will, shows that grit and that fight, and when he's got it you're going to see a guy that will really help us." – Crean on Capobianco.
Capobianco Speaks:
Filed to: 2009-2010 season preview, Bobby Capobianco