ITH Super Happy Fun Time Player Profile: Jordan Hulls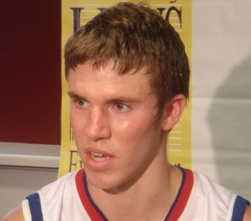 Hoosier Hysteria is on the horizon and it's time for Inside the Hall's player-by-player breakdown of the 2009-2010 Indiana Hoosiers. Today: Jordan Hulls.
Indiana's point guard play a season ago was, for the most part, a disaster. A quick scan of Ken Pomeroy's rankings shows the Hoosiers ranked 342 out of 344 DI teams in turnover percentage.
Turnover percentage, for those of you unfamiliar with it in Pomeroy terms, is simply the number of turnovers a team commits divided by its number of possessions. Indiana's number was 26.4%. Only Arkansas Pine Bluff and the NJ Institute of Technology were worse. Yikes.
And while he will likely begin the season as the backup to junior transfer Jeremiah Rivers, the arrival of Jordan Hulls to the backcourt should help bring relief to IU's turnover problem. At first glance, nothing about Hulls screams Big Ten caliber point guard. Perhaps that's why he was regarded as a mid-major prospect before emerging onto the national scene in the spring of 2008.
A year and a half and an undefeated Mr. Basketball senior season at Bloomington South later, Hulls is a key piece to IU's 2009 recruiting class and will be expected to contribute immediately. There's plenty to love about his game. His ball handling, leadership and passing are all Big Ten ready. His shot, which is not the prettiest from a mechanical stand point, goes in. He can be, at times, unstoppable off the pick and roll. If a defender hedges out, he'll find an open man. And if left open, he'll maneuver his way to the basket or knock down a jump shot.
The biggest question marks? Strength and defense. Tom Crean said last spring that Hulls will need to continue improving his strength to compete in the Big Ten. Defensively, he does an excellent job holding his own against quicker, stronger and taller players by being smart. But at just under 6-0, matchup problems will arise from time to time.
Bottom Line: Hulls will see more than a fair share of minutes and his competitiveness will quickly endear him to Indiana fans. His effort is at the same level each time he takes the court and while he likely won't fill the stat sheet as a freshman, the intangibles he brings from a leadership perspective will be a huge positive.
Quotable: "That kid never accepted that he wasn't a college player, or that he might be a Division II player, and that he might be a low-major player, and that he might be a mid-major player. I don't think he ever accepted that. Something's telling me that kid always had his sights set pretty high." – Crean on Hulls.

Filed to: 2009-2010 season preview, Jordan Hulls