Irving playing recruitment close to the vest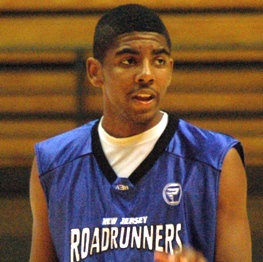 A trio of Indiana coaches – Tom Crean, Roshown McLeod and Tim Buckley — paid a visit to the home of Kyrie Irving on Sunday evening. Irving's recruitment has been a primary focus for Indiana fans since the five-star guard played in front of 2,000 fans at Assembly Hall during the adidas May Classic.
If you were hoping Sunday's visit would spark a clue from Irving on where the Hoosiers might stand in the process, you're going to be disappointed. Irving is keeping a tight lid on his recruitment and offered few details in two brief interviews published today.
"I like to keep everybody on their seats," Irving told Dave Telep of Scout.com. "If everyone says I'm going to Duke or Indiana then that's their opinion."
As for Sunday's visit from the Hoosier staff, Irving told Dustin Dopirak of The Herald-Times that the visit went well, but offered few details.
"I couldn't ask anything more from the coaching staff," Irving told Dopirak. "I've met with them a couple of times. This was more about them meeting with my father and the rest of my family."
It's tough to say where Indiana might fit in Irving's plans. The St. Patrick's point guard made his first visit to Bloomington last November and ever since, the staff has been in hot pursuit. When Irving became eligible last January after transferring to St. Patrick's from Montclair Kimberley Academy, both Crean and McLeod were in attendance to watch him. And they followed him as closely as any school did over the summer.
The next step in the process will be three official visits – September 25 to Duke, October 2 to IU and October 9 to Texas A & M. Others could follow to push Irving to five visits in total. But where will he end up? That's anybody's guess.

Filed to: Kyrie Irving