Hall Notes: Kyrie Irving, Moses Morgan and more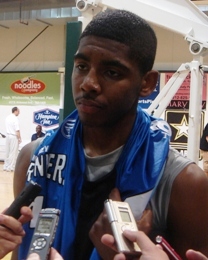 "Hall Notes" is a gathering of news clips mixed with opinion that, on their own, probably wouldn't have made it on Inside the Hall. But throw them all together and well, here we go …
+ Kyrie Irving (pictured) hosted the Duke coaching staff on Wednesday night for the first of his in-home visits. On Thursday, both Devils Illustrated (Rivals) and The Devils Den (Scout) decided that squeezing every pro-Blue Devil comment out of Irving was the perfect way to cause an uproar on the IU message boards. It worked. Remember, it's far from uncommon for a recruit to gush about a visit immediately after it happens. The Indiana coaching staff will make their way to Elizabeth (NJ) on Sunday to meet with Irving and barring any scheduling changes, he'll visit Bloomington on the weekend of October 3.
+ Moses Morgan will visit Indiana this weekend and Dustin Dopirak of The Herald-Times caught up with the 6-5 wing before he boarded his flight to Indianapolis. If Morgan's comments are any indication, the commitment of Victor Oladipo earlier this week will not factor into his decision. DePaul, Minnesota, Arizona State and Clemson are also in the running for Morgan.
+ Tom Crean announced the hiring of Drew Adams and Mason Revelette in a press release on Wednesday night. Adams, 24, will be the coordinator of basketball systems and Revelette, 22, will be a graduate assistant. Most of the chatter concerning the announcement has centered around Adams, who has strong ties to the Indiana Elite AAU program. Adams served as a student assistant the past two seasons at Tennessee and is a graduate of Bloomington South where he played for three seasons.
+ Kyle Neddenriep of The Indianapolis Star reported on Thursday that the IHSAA is close to ruling on the eligibility of Bloomington South guard and IU commitment Matt Carlino. According to Carlino's father Mark, a decision is expected in the "next week or so."
+ Mike Pegram of Inside Indiana/Peegs.com tweeted late on Wednesday that Marquis Teague could potentially visit Indiana on Saturday. At this point, it's hard to view Teague as anything but a heavy lean to Louisville.
Filed to: Drew Adams, Kyrie Irving, Marquis Teague, Mason Revelette, Matt Carlino, Moses Morgan