Scouting notes from Saturday's Elite Camp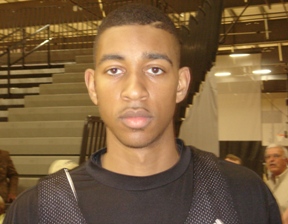 The following are notes submitted to Inside the Hall from someone that attended IU's Elite Camp this past Saturday in Bloomington. It's important to note that this information is not from anyone affiliated with the university. These notes have been slightly tweaked by yours truly.
+ By far the player most impressive on Saturday was Jordan Hulls. He is amazing at the pick-and-roll.  A former IU player that had never seen him play called him a stud. It will be really difficult to keep him off the court, so you could see a lot of Jeremiah Rivers and Hulls together because of their ball handling skills.
+ Maurice Creek is lights out.  He should average 12+ ppg as a freshman.  He can score from any place on the floor and is a solid rebounder.
+ Derek Elston is a beast.  He seems bigger than Tom Pritchard and has much more range.  He is also more athletic than I anticipated.  He could play 25-30 minutes a game.
+ Christian Watford (pictured) is very good.  He plays better in transition and is more of a three but will have to play the four on this team.
+ Seems like it's going to be tough for Matt Roth, Bobby Capobianco and Bawa Muniru to get minutes.  Rivers, Creek, Hulls, Devan Dumes and Verdell Jones will eat up the minutes at guard.  Pritchard, Elston and Watford should play the four and five with the others playing when foul trouble arises.
+ Jeremiah Davis was probably the best all-around player there of the high school players.  He meshed well with Austin Etherington and Matt Carlino. Davis is extremely tough and took some licks. He also seemed to have a great relationship with the coaches.
+ J.P. Tokoto is very skilled, athletic and has a lot of upside. He had some good dunks and blocks, but will definitely have gain weight to play in the Big Ten.
+ Carlino might have been the fastest player there of the high school guys.  He is strong with his dribble and is really quick.  He makes good decisions and will be a solid college player.
+ Etherington is a very good shooter and if he develops a driving game he could be a poor man's Luke Recker.
+ Brent and Bryson Scott were impressive as was Collin Hartman. All three did some things well but were overmatched at times.
+ Both Darryl Hicks and Darryl Baker were especially impressive.  Hicks is more polished with his shot and Baker is better at getting to the hole and finding teammates.  Baker might have had the best move of the camp.  He was being guarded by Hulls, took two dribbles, did a spin move and got right to the bucket and hit it with an and-one on Muniru.  It was impressive. Baker has an issue of not playing hard and once he learns to go full speed all the time his potential is endless. Hicks is very talented and has a strong shot.  He plays hard and knows the game.
Filed to: Austin Etherington, Brent Scott, Bryson Scott, Christian Watford, Collin Hartman, Darryl Baker, Darryl Hicks, Derek Elston, J.P. Tokoto, Jeremiah Davis, Jordan Hulls, Matt Carlino, Maurice Creek