Moses Morgan on IU: 'I have a very high interest in them'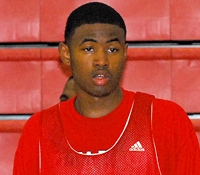 The last time we caught up with Moses Morgan in early May, there was one school at the top of his list: Indiana.
And the 2010 wing and son of former IU player Winston Morgan is still high on the Hoosiers.
"They are still recruiting me very hard," Morgan told Inside the Hall from the NY2LASports.com Summer Jam in Milwaukee. "I have a very high interest in them and they have a very high interest in me."
Morgan is playing this summer for the ICAN All-Stars and hopes to fit in a visit to Bloomington to check out the IU campus soon.
"Probably the middle of August," Morgan said of a timetable for a possible trip.
The 6-5 wing, who is also being recruited by Arizona, Memphis, Oklahoma, UNLV, Marquette and Utah, attended the LeBron James Skills Academy last week and got a chance to learn from the Cleveland Cavs star.
"We got to play with LeBron a little bit, Morgan said. "He spoke to us a few times with the wing players during drills. Just going up against him was a great experience. When we were doing drills on running the wing and catching and shooting, he talked about being ready to make your move without traveling. I tend to do that sometimes."
Morgan also witnessed the now infamous dunk by former IU guard Jordan Crawford on James during a pick-up game and offered his thoughts.
"I saw it," he said. "The people I was sitting with were going crazy. Everybody else was going crazy too. It was pretty bad for LeBron."
(Photo credit: Rivals.com)
Filed to: Moses Morgan