Indiana at the top of the list for Moses Morgan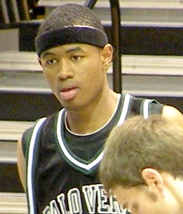 If 2010 Las Vegas guard Moses Morgan needs an opinion on the basketball program in Bloomington, he need not go far for advice. Morgan's father, Winston, played for Bob Knight and the Hoosiers in the 80's after a prep career at Anderson Madison-Heights.
And now the younger Morgan, the No. 68 player in the 2010 class according to Rivals.com, has the Hoosiers front and center in his recruitment.
"Right now, Indiana is the school that's on top of my list," Morgan told Inside the Hall. "It sounds like the best fit for me right now that I could see myself playing in."
Despite the fact that his father played for the Hoosiers, Morgan hasn't followed the program closely until recently.
"I haven't really been following Indiana, but since they've started to recruit me, I'm following up on them and seeing what they're about since Coach Crean has been there," Morgan said. "My Dad always tells me I need to go to a school that's good academically. He tells me a lot about Indiana's academics. He also said the campus is nice."
Along with Indiana, Morgan is being pursued by Arizona, Michigan, Marquette, Oklahoma and UNLV. Despite speculation that a decision could be on the horizon, Morgan is planning to take his time and some visits over the summer.
"I've been saying I'd make a decision at the end of this school year, but right now it's changed," Morgan said. "I don't even know when I'm going to make a decision. So I'm just being patient right now. We're just going to wait and see what develops. My Dad and I want to take some unofficials to some of the schools."
Among the schools expected to get unofficial visits: IU, Arizona, Michigan and Marquette.
After a junior campaign that saw his Palo Verde team finish 21-4 and runner-up for the state championship, Morgan is looking to use the summer to improve two key aspects of his game.
"Right now, I need to get physically stronger and work on my ball handling," Morgan said. "My dad and I work on my ball handling everyday. Some days we don't shoot, we just ball handle. And then we go work on my strength."
(Photo credit: Rivals.com)
Filed to: Moses Morgan