The NCAA, Twitter and you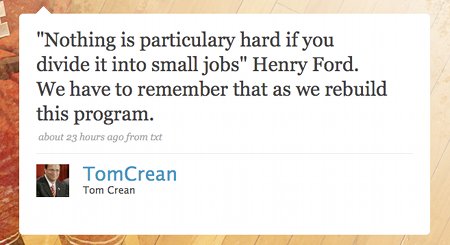 Tom Crean is on Twitter. I know you've probably heard this. And his tweets have been pretty good — an interesting and insightful look at his philosophies and some of the happenings of his team. There's been other updates besides just that kind of stuff, too. For instance, Crean was watching the "Real Housewives of New York" reunion last night on Bravo. Ha.
Anyway, for all the good Crean's Twitter account has wrought, there are a few things to know here. Like Facebook and other electronic transmission outlets, there are restrictions on what Crean can do on Twitter, and also what you, the fan, can do on it as well. For instance, Crean can't be @replying back and forth with you all day, per NCAA rules. If he so chooses, he can direct message with you. Let's go to a blockquote of something I wrote yesterday for ESPN because I'm too lazy to re-write it.
However, direct messaging on Twitter — which can only be viewed by the two people involved in the communicating — is permissible. (Same goes for Facebook. A coach can use the messaging function, which is similar to an e-mail, but he can't write on Facebook walls.) This falls in accordance with the current electronic transmission guidelines that are already in place.

"We view that option on Twitter the same as we view normal e-mails," said Cameron Schuh, Associate Director of Public and Media Relations for the NCAA. "It's just you can't post those (direct messages) on your main page."

"We view Twitter as a blog," Schuh continued. "As long as coaches are on there talking about what they're doing with their day and how their practice went or things like that … not getting into specific terms, that's fine. They can't talk about a person they're recruiting, or they can't use it to talk about their whereabouts on a recruiting trip."
And speaking of recruiting, now that IU target Kyrie Irving is on Twitter, it's technically a violation if you, the IU fan, start @replying him and saying "Please, please, please come to IU!" It's a similar situation to what happened at N.C. State. A student started a Facebook group entitled "John Wall PLEASE come to NC STATE!" He was promptly asked to take it down. The NCAA looks at you as a booster influencing the prospective student-athlete decision, which is a no-no.
Now, I'm certainly not saying I'm wholly in agreement with the NCAA's policies here. Policing this is damn near impossible, and some 15-year-old kid writing on a recruit's Facebook wall is rather harmless; it's not like he's handing the recruit a pile of cash. There are certainly bigger fish to fry in the recruiting game. But, since technology has never been this organization's strong suit, it is what it is for now.
Be aware of it, and act according.