So, what's the plan for 2010?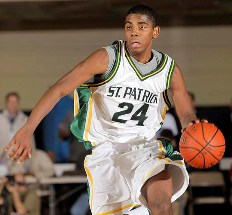 The surprise commitment of David Williams has left many Indiana fans trying to figure out the recruiting plan for the 2010 class. A quick glance at our scholarship numbers page shows two available spots for the 2010 class. (Three if IU wishes to oversign by one.) There's a camp that believes that IU could hold a couple of spots for the loaded 2011 class and there are those who believe the Hoosiers will fill the two remaining spots.
Here's a look at the names IU is recruiting for 2010:
— Kyrie Irving – Irving tops the wishlist for Indiana and several other schools because he is a versatile point guard who has the ability to make others around him better. He prominently mentions IU when speaking about his recruitment and has developed a strong relationship with Tom Crean and Roshown McLeod. Scout.com recently moved him into the top 10 of the 2010 class. IU fans will likely have a chance to see Irving in a couple of weeks as his New Jersey Roadrunners team is expected at the Adidas May Classic. Consider him the top priority in Indiana's recruiting efforts.
— Moses Morgan – Michigan was reportedly the school to beat for Morgan until IU made a recent push for the Las Vegas guard and now the Hoosiers could be in the driver's seat. The son of Anderson-Madison Heights product and former IU player Winston Morgan is among the top 75 players in 2010 according to Rivals.com. Jerry Meyer recently called Morgan "a physical wing prospect with a game ready for the rigors of college basketball." Morgan plans to visit Bloomington in June.
— Dominique Ferguson – The Lawrence North forward recently trimmed his list of schools to seven: IU, Kentucky, Arizona, Texas, UCLA, Wake Forest and Florida. If you read anything into some of his recent quotes, Ferguson sounds like he wants to be the focal point at the school he chooses. Put me in the camp that would be shocked if he becomes a Hoosier.

— DeShaun Thomas – Thomas still maintains he's committed to Ohio State and yet, the whispers continue to circulate that Indiana is in the mix. Until there's firm evidence Thomas is ready to look around, consider him a non-factor.
— Will Barton and Brandon Knight – You can lump both of these players in the same category because as of now you shouldn't consider them as anything more than a pipedream. But it's never a bad thing to have the ear of elite players, right?
Other names to keep an eye on: Jacksonville, FL guard Stacey Poole, Scott County, KY guard Ge-Lawn Guyn and Harvey, IL guard Reggie Smith.
Filed to: Brandon Knight, DeShaun Thomas, Dominique Ferguson, Ge-Lawn Guyn, Kyrie Irving, Moses Morgan, Reggie Smith, Stacey Poole, Will Barton