DeShaun Thomas says he's sticking with Ohio State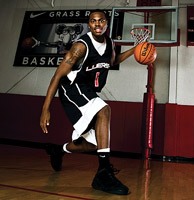 In an interview with Michael Rothstein of The Ft. Wayne Journal-Gazette, Bishop Luers junior and Ohio State commit DeShaun Thomas says he'll honor his commitment and play for the Buckeyes. This, according to Thomas, is despite pressure from teachers, friends, strangers and students to attend IU:
"It's an every-day thing. It's 'Are you going to transfer? Are you going to go to IU? Why Ohio State?' I told everybody it's what's best for me. It's a lot of pressure, but I stay in my books, not worry about it too much. I'm only a junior, I got one more year and then just worry about it next year."
Call me a blind optimist or call me crazy, but I still refuse to count Tom Crean out of this race. Thomas made his commitment to Ohio State long before Crean arrived in Bloomington and the 2010-2011 season should be big for the program. The practice facility will have opened and the Hoosiers should be in the thick of the Big Ten race. In other words, like Crean told Marquis Teague, who wouldn't want to be a part of that kind of environment?
(Photo Credit: ESPN Rise)
Filed to: DeShaun Thomas