Marquis Teague looking hard at six schools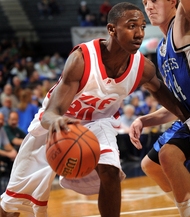 The notion it's a foregone conclusion that Marquis Teague will play for Rick Pitino at Louisville is all but gone. Several weeks ago, I had numerous people tell me it was a lock for Teague to be a Cardinal. But as his high school season ended and the Pike sophomore didn't make an announcement, the window of opportunity for other schools to get back in the mix opened. And Indiana is one of the schools that has done just that.
Kyle Neddenriep of The Indianapolis Star talked to Teague about the six schools still in contention: IU, Louisville, Cincinnati, Purdue, Ohio State and Wake Forest. Here are Teague's comments about the Indiana program:
"(Tom Crean) is a great coach. When I went to the games, he was almost recruiting me during the game. He would say, 'You want to be part of this environment, don't you?' He's great. I love him. I went to three or four games and went down another time to visit around the campus."
If you don't check out the entire piece by Neddenriep, there's one thing that stands out: Teague only used the word "love" when talking about Coach Crean. And his comments about Louisville don't suggest that he's dead set on the Cardinals like some have suggested. If you're unfamiliar with Teague's game, you can watch this video I shot back in January when Pike played Jordan Hulls and Bloomington South.
(Thanks for ITH reader Kelin for the tip.)
Photo credit: Indianapolis Star
Filed to: Marquis Teague