Next stop for Isiah: Florida International?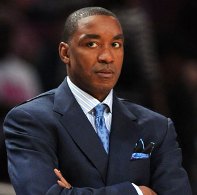 There's no question that Isiah Thomas is one of the best guards, if not the best, to ever play for our Hoosiers. His recent track record, however, suggests he might not be the guy you want running your favorite NBA franchise. But now that he's 18 months clear of his sexual harrassment fiasco with the Knicks, reports are running rampant that he might get back into coaching. This time, on the collegiate level:
Florida International is trying to hire former New York Knicks coach Isiah Thomas as its next basketball coach, sources have told ESPN.com's Andy Katz.

Florida International coach Sergio Rouco was fired Monday, and sources confirm that FIU athletic director Pete Garcia made calls within the conference recently to check on the viability of hiring Thomas.

The Sun Belt has recently become a second-chance destination. Florida Atlantic hired former St. John's coach Mike Jarvis and Arkansas State hired former LSU coach John Brady.
If Thomas lands at Florida International, I like the move for both sides. Isiah gets a chance to start repairing his tarnished reputation. And Florida International, which hasn't had a winning season in five years, gets a little buzz for its program. If nothing else, this mention of Isiah gives me a chance to relive this classic moment between Zeke and Bob Knight (earmuffs, boys and girls).
Filed to: Isiah Thomas