Why They'll Win It All: North Carolina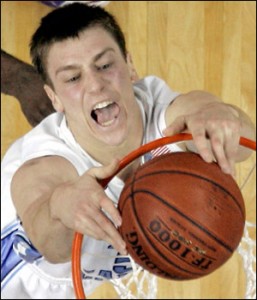 Throughout the week, we'll be running small capsules on the remaining Final Four teams, stating why they'll win it all. First up: UNC.
If this was November or December, you could find very little argument against UNC for the National Title. They were the preseason favorite, and they were straight rolling teams. The Tar Heels beat Kentucky by 19, Notre Dame (ranked eight at the time) by 15 and in perhaps their most emphatic statement of the year, they crushed Michigan State at Ford Field on Dec. 3 to the tune of 35 points. The Heels were riding high behind the grit of Tyler Hansbrough, the leadership of Ty Lawson and the suave of Danny Green and Wayne Ellington.
But conference season hit and they came back down to life. The Heels lost their first two games in ACC play. Tyler Zeller missed significant time with a wrist injury. Marcus Ginyard never saw the floor all conference season due to injury. Suddenly Goliath was slayable.
But, these were still the Tar Heels, still a team full of immense talent with a stellar coach. They won the ACC, only losing one more after the 0-2 stumble. They've had little problem dispelling their opponents in the NCAA  Tournament; Their average margin of victory in four tournament games is 22.5.
The Tar Heels should win it all because they were supposed to win it all. And they are right here, right now with the opportunity to do so. No remaining team has more talent than the Heels. (Though, UConn and Nova are right there.)
If they play their game and play it well, the Heels should be cutting down the nets, and Barack's bracket will have the winner picked correctly. Mine, however, will not.
Filed to: North Carolina Tar Heels