Good, Bad and Ugly: Michigan State
I have put little emotional investment into this Big Ten season. As the losses piled up, it was hard to. With so many turnovers and so much frustration, there came a point where you had to cut your losses and just ride this season out. Even when IU was able to get a win against Iowa, I wasn't really that charged about it.
It's not that I didn't still watch, or didn't still hope IU would win, it's just that I didn't find myself cursing out the TV every game, didn't find myself hooting and hollering like I'd done so many times before.
Tonight was different. Tonight I cursed. Tonight I slapped my hands together and clapped. Tonight my heart skipped a few beats. This is what it's supposed to be like; I had almost forgotten.
After Tom Izzo picked up that technical foul and MSU went on that ridiculous scoring drought, I believed. Believed IU had a legitimate shot at winning this game. We've been close countless times this season and I've thought the opposite. IU is bound to lose, IU will blow this, the Hoosiers are doing the same thing they always do: play hard and then watch it come crumbling down late in the game.
I'm not sure why I thought different tonight. Perhaps it was the dulcet tones of Steve Lavin and Brent Musburger. Perhaps it's because I'm mentally to next season already, and an effort like this made me think the Hoosiers were already there.
Whatever it was, I was hooked, enraptured for the last ten minutes of this ballgame. It felt good, felt right. But as soon as Raymar Morgan did this with 27 seconds to go, that was just about it: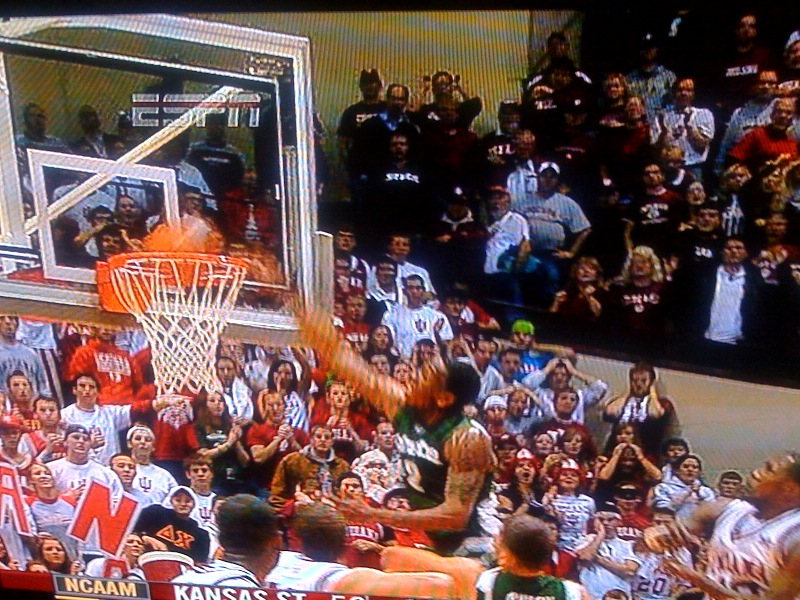 Sure, IU still had a legit shot to win, as the Hoosiers were only down four points. It was far from insurmountable. But this year's feelings starting to creep in again. If they'd only shot better than 64 percent from the free-throw line, they'd be right in this still, or winning. If they only didn't turn the ball over 22 times, they might be winning. If they only didn't blow all those chances when MSU was missing shots and turning the ball over the last few minutes, they would certainly be winning this game.
But, as always with the 2008-09 incarnation of the Indiana Hoosiers, all the hustle, scrap and effort in the world can't win you a basketball game if other components aren't working in conjunction with all that.
But that will come next year. And I'll be cursing at my TV right along with it. I can't wait.
Filed to: Michigan State Spartans, Tom Izzo