Good, Bad and Ugly: Northwestern
FINAL SCORE: Northwestern 75, Indiana 53
THE GOOD:
A hot start. IU rushed out to a 15-7 lead in the first five minutes, but once Northwestern switched to a 1-3-1 zone, they only mustered 38 points the last 35 minutes of the game.
Stopping Kevin Coble … for a half. I'm not sure if it had more to do with IU really D'ing up on Coble or the Wildcats just not finding him on the offensive end, but holding a guy averaging 15.5 points a game to only two points in the first half ain't too shabby. Coble showed more signs of life in the second half, as he had some easy scores on Northwestern's patented back-door cuts. He finished with 10 for the game. But where Coble faltered, Craig Moore and Michael Thompson shined.
IU outrebounded Northwestern 31-25 for the game and on the offensive end, buried them 15-5. (Though, we know why that is.)
The Hoosiers also tallied 16 assists on the night, which was their most since Jan. 31 against Ohio State.
THE BAD:
Turnovers. 17 of them. Long scoreless stretches. Holes in the defense. You know, same as it ever was this season.
THE UGLY: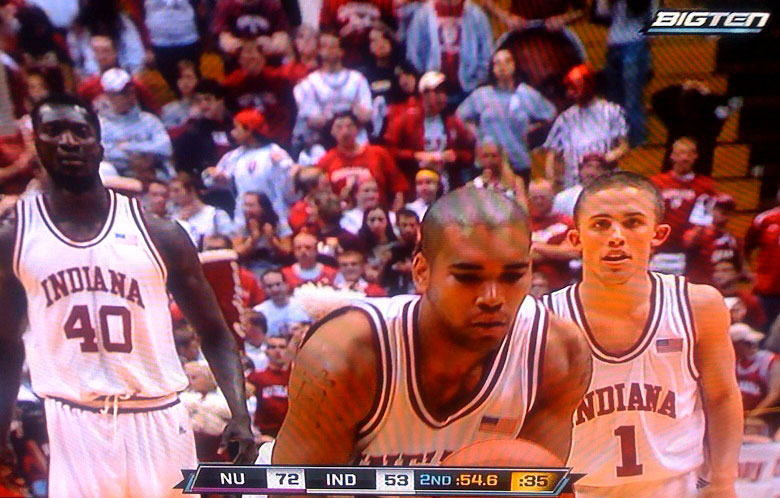 From left to right: Tijan Jobe, Steven Gambles, Michael Santa. (Kory Barnett and Broderick Lewis were also on the floor at the end of the game.)
Who is Michael Santa, you ask? Well, he's a manager Tom Crean thought deserved a jersey. And, he's wearing Armon Bassett's number! Apparently, Crean isn't stopping there. He wants to suit up another manager, Brandon Profitt. But Proffitt is injured at the moment. Perhaps he pulled a finger reaching into a vending machine to grab a Diet Coke for Crean. (I kid; I'm sure these are both nice, hard-working guys that are giving their all in practice just like the rest of the team.)
But yeah, I'm not sure if it gets any lower than this: IU losing to Northwestern for the first time in 41 years at home and the first time ever in Assembly Hall, as a tiny crowd watches Santa and company in the final minute. Yeesh.
Filed to: Kevin Coble, Northwestern Wildcats