Teague watches Hoosiers take on Gophers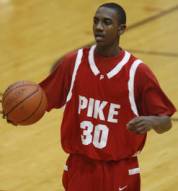 Teague in attendance for Sunday's game
Indianapolis Pike sophomore Marquis Teague was in Bloomington Sunday taking in the Indiana-Minnesota game. Teague is said to be leaning heavily towards attending Louisville and is expected to make a decision shortly after the high school season ends.
Crean watches Irving's debut
Tom Crean and assistant coach Roshown McLeod made the trip to New Jersey on Thursday's to watch junior guard Kyrie Irving's debut. Irving was forced to sit out the beginning of the season due to transfer rules and returned to a large group of coaches waiting to see him play. According to Adam Zagoria, coaches from Seton Hall, St. John's, Rutgers and Villanova were also in attendance. Irving scored 16 points in a 74-42 win.
Crean takes in first loss for Carlino and Highland
Crean made the most out of his week off and made it to Arizona on Monday to see 2011 commitment Matt Carlino and No. 1 Highland. Carlino scored 23 points, but hit just 2 of 10 three-pointers as Highland fell 58-51 to Phoenix North.
Another Zeller on the way
After seeing Luke Zeller go to Notre Dame and Tyler Zeller head to Chapel Hill, Crean is making an effort to bring the third Zeller, Cody, to Bloomington. The youngest Zeller, a member of the 2011 class, scored 19 points and grabbed 12 rebounds in front of Crean Friday night, but Class 2-A No. 2 Washington fell to Class 2-A No. 1 Princeton 57-50.
(Photo credit: Indy Star)
Filed to: Cody Zeller, Kyrie Irving, Marquis Teague, Matt Carlino