Know Thy Opponent: Illinois Fighting Illini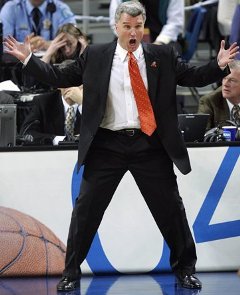 Expected to be a middle of the pack team in the Big Ten, Bruce Weber's Illinois club is off to a 13-2 start and owns the most impressive conference win to-date: A 71-67 upset at Purdue in overtime.
A big reason for the turnaround from last year's dismal 5-13 Big Ten campaign is Illinois' ability to share the ball. They rank second nationally with 20.1 assists per game and are sixth in team assist-to-turnover ratio at + 1.5.
"They share the ball," Indiana coach Tom Crean said. "We are really going to have to be on top of our game to move the basketball and match their ability to move the basketball."
Four players are scoring in double figures for Illinois: Demetri McCamey (12.1), Mike Davis (11.9), Mike Tisdale (11.7) and Trent Meacham (11.7). Chester Frazier is the fifth Illini starter and averages 5.8 ppg, 4.6 rpg and 6.4 apg.
"Trent Meacham, I've been a fan of his for a long time, all the way back into high school. Chester Frazier is high-energy lighting ram," Crean said. "He's out there making things happen and delivering the basketball and defending. (Demetri) McCamey certainly has the ability to play inside or outside and (Mike) Tisdale is one of the more improved players anywhere in the country right now."
Coming off of a 74-64 loss at Michigan that snapped a seven-game winning streak, Illinois will be hungry to get back on track and will need no extra motivation given the recent history between the programs. The Hoosiers won both games a season ago: 62-58 on Jan 13 in Bloomington and 83-79 on Feb 8 at Champaign in double overtime.
"We'll learn from it (the loss at Michigan) and hopefully move forward," Weber said. "We have a nice stretch here. You got four out of five at home. If you're going to be in the Big Ten race, you got to take care of business and win your home games and see if you can sneak out road games."
Filed to: Bruce Weber, Chester Frazier, Illinois Fighting Illini