Know Thy Opponent: Michigan Wolverines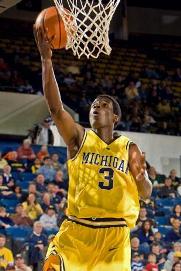 After six seasons under Tommy Amaker with no NCAA Tournament appearances, the early results this season suggest the John Beilein era is progressing well in Ann Arbor.
The Wolverines finished just 10-22 a year ago, but are 11-3 this season and own wins over a pair of top ten teams in UCLA and Duke.
The key to the turnaround: a balanced attack with 10 guys playing over 14 minutes per game and the play of sophomore guard Manny Harris and junior forward DeShawn Sims.
Harris is leading the Big Ten in scoring at 18.8 ppg and is making a living from the foul line. He's connected on 83 of 95 free throw attempts (87%). The key to stopping Harris may be letting him shoot the three as he's hitting just 30 percent.
Sims ranks third in the Big Ten in scoring with 16.6 ppg and is the conference leader with 8.8 rebounds per game.
Besides Harris and Sims, three other guards are seeing significant clock for Beilein's club and two have Indiana ties. Laval Lucas-Perry, a transfer from Arizona, started for the first time in Sunday's win over Illinois and is the third leading scorer at 11.6 ppg.
Zack Novak, a freshman guard from Chesterton, is one of the biggest surprises in the Big Ten. Beilein inserted Novak into the starting lineup prior to the Big Ten opener against Wisconsin and he responded with 20 points. Novak leads Michigan with in three-pointers made with 23.
"He's got great confidence in shooting the ball," Indiana coach Tom Crean said. "And the other thing that I think he does as well as anybody is this league right now is cut. His cuts are always fast, they're hard, they're definitive."
Stu Douglass, a freshman from Carmel and former teammate of Daniel Moore, has started 13 of 14 games and is scoring 4.8 ppg in 19.3 minutes.
"They are a very good team and there are not a lot of weaknesses to their team," Crean said. "They know exactly what they want to do and they know exactly who they are"
Filed to: DeShawn Sims, John Beilein, Manny Harris, Michigan Wolverines, Stu Douglass, Zack Novak