Good, Bad and Ugly: Gonzaga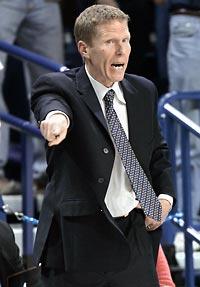 THE GOOD
After the Wake Forest drubbing Wednesday, I think we were all bracing for a slaughter this afternoon inside Lucas Oil Stadium. Gonzaga has size, experience, talent; they're ranked No. 5 in the country and are serious contenders to make the Final Four.
IU was only down nine with 3:35 to go.
Now, this wasn't so much IU playing their best game of the year, playing at a higher level than we've seen — it was Gonzaga only hitting 3-of-16 3-point attempts, the Bulldogs shooting 45.8 percent from the field and only 59.1 percent from the line. IU does deserve some credit for their defense, but in the first half Gonzaga seemed uncomfortable with the odd angles and sightlines at Lucas Oil. It was an off game for them on the offensive end.
But setting aside all that, IU was in this game until the last couple minutes. No matter how many times we turned the ball over, no matter how many times we got nothing going on offense and had to chuck something up in desperation as the shot clock ran down, we were in this game. Credit Tom Crean for getting these guys to scrap. Credit the team for not giving in and playing hard till the buzzer sounded. And credit the guys that went to the line today, as we hit a respectable 19-of-24. I'll take it. Hitting 50 percent of our 3-pointers (6-of-12) in the second half helped out a ton, too.
(Aside: This is two games in a row now the general consensus was the other team — Wake, Gonzaga — played bad. Perhaps this is a trend. If IU can get teams like Penn State, Illinois, Northwestern, Minnesota or Iowa to play bad too, maybe we'll sneak a couple wins out when Big Ten season rolls around.)
There were times in the second half when I wanted to believe. Just when Roth, or Dumes, or Taber drained a three and I thought "Well, maybe we can do it!" — Gonzaga came down and hit a quick three. Or Josh Heytvelt got position inside, dropped in a layup and got an and one. This is what good teams do. They finish. They respond. They overcome. They win.
THE BAD AND UGLY
I might as well just etch out my first sentence under bad and ugly for turnovers from here on out. It seemed like before the tip even came down, IU already had six turnovers. They had a ton early, and finished with 25 for the night. You can't beat Gonzaga when you turn the ball over that much.
Without Verdell Jones to play at the point, Daniel Moore played a ridiculous 37 minutes and notched seven turnovers. With Moore not being a scoring threat, IU essentially played with four — and oftentimes less when Tijan Jobe or others were on the court — players with offensive prowess on the court. Taking nothing away from Moore who has been nothing but serviceable this year, but a freshman walk-on point guard should not be getting 37 minutes of play during a game. But this is the reality we face this year.
For as bad as the Zags shot, IU was even worse — shooting a woeful 14-of-46 from the field for 30.4 percent for the game. Adding in our seven made threes for the game, IU ended up with 21 made shots … four less than the total amount of turnovers they amassed.
When IU let the Bulldogs get out in transition in the second half, Matt Bouldin always seemed to be in the right place, as he got a few quick and easy buckets under the rim.
This was a lot closer than any of us expected. Chalk it up to one of the many "moral victories" and "learning experiences" we'll get this season.
But, at the end of the day, it's also another defeat.
Filed to: Daniel Moore, Gonzaga Bulldogs, Matt Bouldin