Looking ahead to Monday's tilt with Notre Dame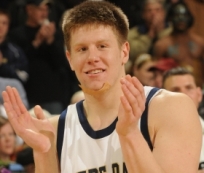 Nothing against Northwestern State or IUPUI, but IU will get its first true test Monday afternoon in Maui when they face off with Notre Dame.
Led by Luke Harangody and a stellar cast of upperclassmen, I think it's fair to say the Hoosiers are going to be in for a long day. And by long day I mean that not losing by more than 20 will be considered a success.
Mike Brey's club can absolutely light it up from the perimeter and Harangody is as good of a post player as there is in college basketball (sans Tyler Hansbrough).
With that said, I encourage you to check out John Gasaway's preview of Notre Dame over at Basketball Prospectus. Here's a short excerpt and you can read the entire preview here:
Luke Harangody's a star. Long before I started watching basketball-I know not when, exactly-it became the custom to refer to a team not simply as, well, the team's name but rather as: "(Star) and the (team)." For instance, I might say simply "Notre Dame," but if you're seeing their game plugged on ESPN you better believe they're going to be "Luke Harangody and Notre Dame."

Rightfully so. Michael Beasley was the only major-conference player in the country last year who played a more prominent role in his team's offense than did Harangody, who alone took about one-third of his team's shots during his minutes on the floor. Notre Dame's single-minded feed-Harangody compulsion on offense is surprising, imbalanced, and extreme. It also works beautifully.

The Irish came within a few baskets of beating out Connecticut for the title of best Big East offense in 2008. It's not that Harangody's another Beasley. Far from it: Beasley was vastly more efficient on offense last year while being even better than Harangody on the defensive glass. It's just that by assuming a role of Beasley-esque proportions (Mike Brey's workhorse attempted 509 two-point shots last year), Harangody allows talented teammates the luxury of functioning as ruthlessly efficient supporting players.
Poor Tom Pritchard. He was playing so well. The reality of this situation is that IU is out-manned at every position and Harangody is going to have a field day in the paint. But hey, look at the bright side, we might beat Chaminade on Wednesday.
Thanks to ITH reader Matt for the tip.
Filed to: Luke Harangody, Mike Brey, Notre Dame Fighting Irish