Good, Bad and Ugly: IUPUI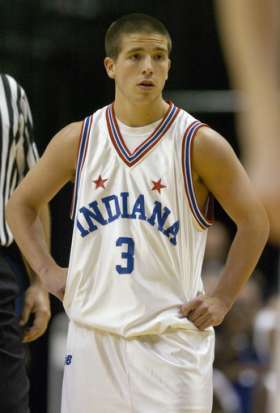 The Good:
IU struggled immensely with turnovers and rebounds in their first bout of the season against Northwestern State. Tonight against the Jaguars, there was great improvement. The Hoosiers committed 13 turnovers — five of those came from Nick Williams — and snatched 32 board to IUPUI's 29.
Daniel Moore asserted himself as the floor leader again tonight. The kid has confidence, handles the ball well and looks incredibly comfortable out there. And IU as a whole has proven to be a great passing team so far. For the night, they tallied 17 assists in a low-scoring affair.
Matt Roth had a coming out of sorts this evening, and displayed some of that range we heard so much about. (Dude was popping threes from way beyond the arc.) He tallied 12 points on 4-of-8 shooting from 3-point land.
Tom Pritchard put up a pretty beastly performance. Sure, he missed a bunny or two early on, but Pritchard is fast proving he's a threat for a double-double every night, as he scored 19 and grabbed 10 boards for the game.
Also, we won. So that was nice.
The Bad:
Devan Dumes went cold tonight, going 3-of-12 from the floor and finishing with 10 points. What happens when Pritchard gets in foul trouble? Where do we turn then?
Verdell Jones twisted an ankle early in the second half, but was able to walk to the bench under his own control. Hopefully it doesn't keep him out for Maui; We need all the bodies we can get. Best of luck on a speedy recovery, Mr. Jones.
The Ugly:
Our second half defense was awful. At times, it looked like IUPUI was just doing a layup line drill. I shudder to think how quickly things could have gotten out of hand if this was a Big Ten game, or Notre Dame, or Gonzaga.
And going along with that: let's all remember we barely scraped by a Summit League team that is young and in the midst of a rebuild.
Lastly, I'm watching this North Carolina-Kentucky game right now and um, North Carolina would absolutely murder us. (We'd have our hands very full with Kentucky, too.)
Filed to: Daniel Moore, IUPUI Jaguars, Matt Roth, Tom Pritchard