So, about that Dominic Cheek visit…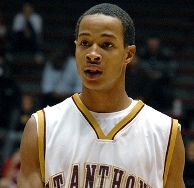 Adam Zagoria of SportsNet New York, who seems to have connections with every big time recruit on the east coast, has yet another update on the recruitment of Dominic Cheek.
And it's not good for IU according to Cheek's "handler":
"He's no longer interested in Indiana and he's no longer interested in Seton Hall," Ben Gamble said Thursday afternoon by phone. "He just wasn't comfortable with those situations."
So much for the "I'm definitely going to visit Indiana" comment. With Braswell off the board and Cheek no longer interested, that pretty much wraps up the 2009 class.
{HT: Basketblog}
Filed to: Dominic Cheek