Dominic Cheek: "I'm definitely going to visit Indiana"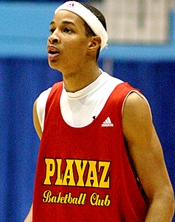 The 2009 recruiting class Tom Crean and staff have assembled in his short time in Bloomington is impressive. And with the hiring of Roshown McLeod, it could be getting a five-star boost in the form of St. Anthony's (NJ) guard Dominic Cheek.
In an interview published Thursday morning by Adam Zagoria of Zagsblog.net, Cheek talked about his interest in Indiana and his relationship with Crean and McLeod:
"I'm definitely going to visit Indiana. I'm definitely going to try to really look into that school and see how everything is. Coach Crean, he was recruiting me when he was at Marquette and now he's still recruiting me at Indiana. Roshown McLeod is like a brother figure to me. I knew him ever since I was little and me and his brother are like best friends, so that's definitely going to play a big part. I know if I do decide to go out there, I'll know that I'll have a person to look out for me."
Remember that three-year rebuilding plan that most of the fanbase was resigned to? Adding Cheek to the already stellar 2009 class could put the Hoosiers back on the map as early as 2009-2010. There's still a ways to go before Cheek makes a decision, but the fact that he's planning an official visit to Bloomington coupled with his relationship with McLeod is encouraging indeed.
(Photo credit: Rivals.com)
Filed to: Dominic Cheek, Roshown McLeod, Tom Crean