Must Read: L. Jon Wertheim's SI piece on IU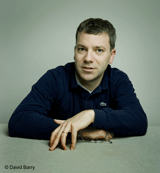 Out of all the places I write on these here Internets, there is certainly no better place than ITH to recommend one of my favorite books, L. Jon Wertheim's Transition Game: How Hoosiers Went Hip-Hop. It's a great read on the evolution of the game of basketball in the state of Indiana,  (and really, nationwide) from the short shorts and set shots, to the above-the-rim game, to the WNBA.
So, it was with great anticipation that I flipped open the Sports Illustrated that arrived at my office today to a meaty article by Wertheim — an SI staffer and Bloomington native — on our Hoosiers. And it did not disappoint. While there's a good lot about Tom Crean and the challenges ahead, the parts I found most interesting dealt with last year during the tumult:
There were other signs that the program was coming apart. Reserve forward DeAndre Thomas was arrested for driving without a valid license and paid a fine. Guards Jordan Crawford and Armon Bassett and forward Jamarcus Ellis were each suspended by the program for undisclosed reasons. Multiple sources close to the team assert that marijuana use was common among a group of players, some of whom were made to take part in a drug counseling program set up by the athletic department. Despite a wealth of academic support, the team's collective grade-point average plummeted from 2.89 in the fall semester to 2.13 in the spring, when players were cutting classes.

According to Eric Gordon Sr., his son "didn't get involved in the smoking and partying" and, as a result, felt alienated from some of his teammates. Likewise senior co-captain D.J. White rarely spent time around his fellow players away from the court. "The kids weren't on the same page," says Gordon Sr. "They didn't have similar backgrounds or experiences or goals, and basically all hell broke loose."
I'm glad someone finally put the weed issue in print because those were whispers we certainly heard, and other places were floating them around as well. (Also: it's not hard to draw the conclusion that those suspensions for "undisclosed reasons" were a direct result of players getting high. Rhymes with Contrellis and Contrassett.)
There's a lot more I could parse out here (Sampson wasn't even in the running for the job until his agent threw his weight around), but just go read the darn thing yourself. It's worth it.
Filed to: L. Jon Wertheim