Report: Fred Glass to be named Athletic Director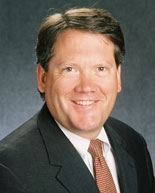 Both Chris Korman of The Herald-Times and John Decker of Hoosier Nation are reporting that Fred Glass will be the successor to Rick Greenspan as the Athletic Director at IU.
You can read up on Glass right here, but here are a few quick points to consider:
Glass is an IU alum (1981 undergrad, 1984 School of Law)
Currently a partner in the Bakers & Daniel law firm
Served from 2000-2007 as the President of the Marion County Capital Improvement Board of Managers which owns and oversees the Indiana Convention Center, RCA Dome, Victory Field and Conseco Fieldhouse
Served on committees in 2000 and 2006 to organize the Final Four in Indianapolis
Current member of local organizing committee for Big Ten Tournament
Solid body of work, but the main thing missing is "led an athletic department at a major university in the Big Ten." Wait, I'll settle for experience at a smaller school. Not there either. I'll withhold judgment until I hear some comments from McRobbie and Glass, but on the surface, there are some questions to be answered here. With that said, go get 'em, Glass.
Filed to: Fred Glass