Fred Glass is your new AD, boys and girls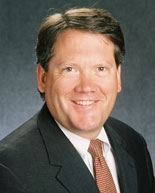 And IU issued the longest press release in history to prove it:
Fred Glass Chosen to Head Department of Athletics

BLOOMINGTON, Ind. – Indiana University President Michael A. McRobbie today (Oct. 28) named Fred Glass, '81, an Indianapolis attorney and civic leader, to be IU's next director of intercollegiate athletics.

Glass is well known in Indianapolis for his central role in several major sports-related initiatives, including negotiating a 30-year deal to keep the Colts in the city, financing and building the new Lucas Oil Stadium, organizing a Super Bowl bid and bringing major NCAA basketball events to the city.

A partner in the law firm of Baker & Daniels, Glass served as president of the city's Capital Improvement Board from 2000 to 2007, a position that gave him extensive first-hand experience in both the financial and managerial challenges of sports at the highest levels.
"In all of these major undertakings, Fred demonstrated a remarkable talent for leadership, for mastering the details of big challenges, for diplomacy, and for consensus building," McRobbie said. "He has a well-earned reputation as someone who can get the big things done. He is exactly the person we need to take on the challenges our Athletics Department will encounter in the next decade."Glass replaces Rick Greenspan, who decided to resign as of the end of the year. Glass will officially take over on Jan. 2.

"In our discussions, I was greatly impressed that Fred not only understood the challenges before our intercollegiate athletics program but also the importance of IU athletics being an integral part of the life of the entire university," McRobbie said. "He knows firsthand of the greatness of this institution, its students, faculty, and staff — and he fully embraces our aspirations for excellence."

Glass was recommended to McRobbie by a 13-member search committee headed by Bill Stephan, vice president for engagement.

"The committee worked diligently in reviewing the credentials of scores of candidates, but ultimately found in Fred Glass someone who possesses the unique combination of skills, experiences, accomplishments and passion for this great institution that truly distinguished him from all the other candidates," Stephan said.

A native of Indianapolis, Glass earned bachelor's and law degrees from IU in 1981 and 1984, respectively. He served as chief of staff to former Indiana Gov. Evan Bayh from 1989 to 1993 and he was transition team chief for former Indianapolis Mayor Bart Peterson when he took office in 2000.

Peterson appointed Glass to the Capital Improvement Board, which owns and operates Lucas Oil Stadium, the Indiana Convention Center, Conseco Fieldhouse and Victory Field. During his eight-year tenure as CIB president, Glass represented the mayor in successful negotiations to keep the Colts in Indianapolis and headed up the planning effort for construction of Lucas Oil Stadium and the expansion of the convention center.

Glass served on the organizing committees for the NCAA Final Four Tournament in 2000 and again in 2006 and negotiated a deal to make the city part of a permanent rotation to host NCAA Final Fours. He also was on the executive committee of the 2002 World Basketball Championship and co-chaired the 2006 local organizing committee for the Big Ten Men's and Women's Basketball Tournaments.

Most recently, he was president of the City of Indianapolis' 2011 Super Bowl Bid Committee, which although not successful for that year, laid the groundwork for a successful bid for 2012.

Glass is a life member of the IU Alumni Association and serves on the Dean's Advisory Board to the College of Arts & Sciences. He and his wife, Barbara, who graduated from IU in 1980, are the parents of four children. They are: Katie, 22, a 2008 IU graduate; Joey, 20; Connor, 16; and George, 13.

Glass said he decided to accept the athletics director position at Indiana University because it would give him another opportunity to make a worthwhile contribution to the future of the state and his alma mater.

"Throughout my career, I have been fortunate enough to serve with a number of distinguished public servants in pursuit of bettering our communities and our state," Glass said. "I wanted to continue serving our state in some capacity where I can truly make a difference. That is why I decided to accept this challenge. When your alma mater comes calling, that is truly an honor. Indiana University athletics have long been a benchmark of excellence — both academically and athletically — and I will do everything within my power to enable our athletic teams to meet all the expectations of our great fans."

Glass said he strongly believes that a good intercollegiate athletic program must do just as much to help a student-athlete graduate as it does to develop the individual's athletic abilities.

"Our student-athletes will always get the support and encouragement they need to successfully complete their academic pursuits," Glass said.

During the search process, Glass was endorsed by Charles M. (C.M.) Newton, the legendary basketball coach and administrator who served as a consultant to the university.

"I was delighted to have the opportunity to meet with and interview Fred Glass, and it became very obvious throughout that conversation that he is a person who well understands the issues and challenges of leading and managing an Intercollegiate athletics department," Newton said. "I am delighted for Indiana University to have made this hire and look forward to Fred's leadership and vision for athletics."

Tony Dungy, head coach of the Indianapolis Colts, said, "I worked very closely with Fred on the Super Bowl effort, and I was very impressed with his vision, leadership and judgment. Indiana University has made an outstanding choice."

"I welcome Fred to the Big Ten family," added James E. Delany, Commissioner of the Big Ten Conference. "Fred's legal, community and sports background provide an excellent set of experiences as he moves into IU's athletics director chair. From a conference perspective, I very much appreciate Fred's involvement in bringing the Big Ten men's and women's basketball tournaments to Indianapolis and look forward to working with him on other projects going forward."

During the press conference, McRobbie also paid tribute to Rick Greenspan for his achievements during his four-year tenure as AD.

"Rick made a number of important contributions to Indiana University," McRobbie said. "He substantially improved the financial condition of the department, he hired several truly fine coaches and he spearheaded the construction and renovation efforts at Memorial Stadium. I greatly appreciate all that he's done."
As I said last night, I'm going to take the wait-and-see approach on this. I would have preferred De Carolis, but the resume of Glass is nothing to scoff at. His main priorities should be figuring out how to make IU football a winner on a consistent basis (if that's even possible) and staying out of the way of Tom Crean.
Filed to: Fred Glass