Is the AD search coming to an end?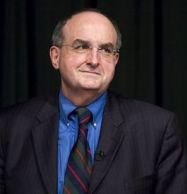 Depending on who you believe (coverage here, here and here), the replacement for lame duck Athletic Director Rick Greenspan could be announced as early as tomorrow.
The three candidates: Oregon State's Bob De Carolis, IU Associate AD Scott Dotson and Indianapolis lawyer Fred Glass. De Carolis has done a stellar job out in Corvallis, Dolson has the IU ties that some supporters of the program covet and Glass has experience working with the NCAA and is a superstar lawyer.
De Carolis had the buzz last weekend, but Glass is the name with momentum if you believe John Decker of Hoosier Nation. He's got an impressive resume, but I'm not sure the AD position in Bloomington is the best place for a man who has never led an athletic department. The same can also be said for Dotson. De Carolis seems like the safest bet (and most intriguing) of the three, but Oregon State will probably do its best to keep him.
With that said, I post this question to you: Of these three candidates, who would you like to see IU hire and why? Bring it in the comments.
Filed to: Athletic Director search, Bob De Carolis, Fred Glass, Michael McRobbie, Scott Dotson