De Carolis doesn't diffuse IU rumors; speculation builds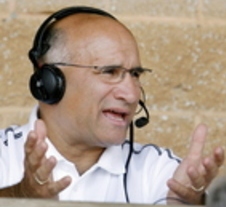 With Rick Greenspan's tenure coming to an end on December 31, the search for a new AD is certain to heat up in the coming weeks. One potential candidate, Bob De Carolis of Oregon State, seems to be right in the thick of things according to Paul Buker of The Oregonian:
While De Carolis declined to discuss the Indiana situation with reporters in Seattle, he issued a statement through the school's sports information director that did little to clarify the talk he might be offered the job this week.

"At this time it would not be appropriate for me to respond to rumors and speculation about the position of Director of Athletics at Indiana University," the statement read. "Officials at Indiana University have a process for this position and I want to respect it. Therefore, I do not wish to make any comments that might directly or indirectly compromise this process."

De Carolis, approached after Oregon State's win, was asked why he could not say yes or no to whether he was interested in the job.

"You've got the statement," he said. "Do what you want with it."

De Carolis has Big Ten connections from his tenure at Michigan — and no doubt the Indiana athletic directorship would involve a hefty pay increase. The athletic director, who according to the school's Web site would start in January, would be in charge of a $54 million athletic department budget.
Here are a few points of interest after a quick read of De Carolis' bio: He helped rescue Oregon State athletic department from a deficit of $12.5 million; he's no stranger to overseeing renovation projects as "Beaver Nation" now enjoys $115 million worth of enhancements to Reser Stadium and it appears he's been able to bump up donations to his department by a solid margin while in Corvallis. The fact that he's refusing to talk about the opening and issuing statements leads me to believe that an offer could be in the cards.
Filed to: Bob De Carolis