All-Big Ten preview: Marcus Landry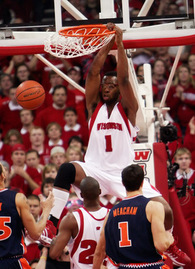 The All-Big Ten preview is ITH's look at our picks for the top players in the Big Ten this season. Today: Marcus Landry of Wisconsin.
Marcus Landry came of age last season. In his first full year as a starter, the (then junior, now senior) forward chipped in 11.8 points, 5.4 boards and shot 46.6 percent from the floor. At 6′ 7″ he also picked up a bit of an outside shot. (Doesn't it seem like all Wisconsin big men do this?)
Besides Landry and fellow senior foward Joe Krabbenhoft, the Badgers return no starters, and have 11 sophomores and freshmen on the team. Expect Landry to lead the youngsters, and be a focal point of Wisconsin's offense this year. Though last season he was third on the team in scoring overall, he was first during the Big Ten season, and was named the most outstanding player for the Big Ten Tournament.  He was also named to the 2008-09 preseason All-Big Ten team yesterday at Big Ten media day and had this to say:
"I still think that there's some things that I can show, and I know (Badgers coach Bo Ryan) knows that there's some more things that I can do," said Landry. "So I'm ready to let it all out. This is a big year for me. It's my last year. I'm looking forward to doing things after this, regardless of what it is. So I think that I still have some things to show."
Methinks he might be showing those things all over Tijan Jobe come this season.
Filed to: Marcus Landry, Wisconsin Badgers