All-Big Ten preview: Kalin Lucas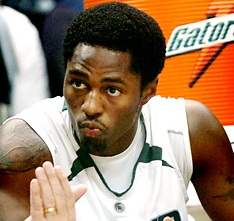 The All-Big Ten preview is ITH's look at our picks for the top players in the Big Ten this season. Today: Kalin Lucas of Michigan State.
The tradition of quality guard play (Cleaves, Charlie Bell, Mo Pete, Jason Richardson, Neitzel, shall I continue?) for Tom Izzo coached teams continues in East Lansing as Izzo hands the keys to the Spartans to Kalin Lucas.
Lucas, a sophomore, averaged a shade over 10 points and just under four assists per game last season. After splitting time with Travis Walton a year ago, he's looking forward to taking the reigns.
"I feel like this is my team now," Lucas recently told The Detroit News.
Lucas is a unique combination of power and ridiculous speed. He's a bit undersized at a shade under 6-0, but his quickness is unmatched by anyone in the conference and perhaps, the country. In fact, Izzo recently commented that Lucas is the fastest player he's ever coached.
More importantly, however, will be his ability to lead and get the most out of a loaded MSU roster. He'll have plenty of options up front with Marquise Gray, Goran Suton, Delvon Roe and a candidate for player of the year in the league, Raymar Morgan. The backcourt is just as loaded with Chris Allen, Durrell Summers, Walton and freshman Korie Lucious.
"You can't be a leader if you don't know what you're talking about," Lucas said at Michigan State's media day. "I've been coming in and watching more film. I've become a gym rat. I've gotta be more vocal and be more of a leader."
Filed to: Big 10 Preview, Kalin Lucas, Michigan State Spartans, Tom Izzo